A year ago, on May 29, 2020, blogger Sergei Tikhanovsky became Lukashenko's hostage. Since then he has not seen his family in person, nor walked the streets of Belarus. He met his birthday, New Year, behind bars, he is deprived of independent sources of information. At the same time, he still does not regret anything and is optimistic about the future. "If the nation, the people persevere, things will not last long," he said in a released interview. Belarusians have come out in many cities around the world to support him.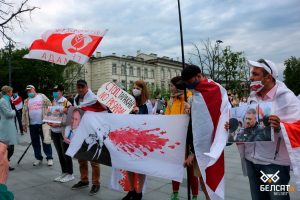 Large-scale events took place on this day in Vilnius on Lukishskaya Square. They were attended by Sviatlana Tsikhanouskaya, Margarita Levchuk, Yekaterina Snytina, Natalia Kolegova, as well as representatives of the Belarusian diaspora and Belarusians who ended up in Vilnius after the repressions. Olga Karach also took part in the action. She stated that the Belarusian revolution began not in 2020, but much earlier:
– Many brave people went to the 2019 parliamentary elections without hope. They knew that their victory would be stolen and the results falsified. But they went, knowing that they would fall under the roller of repression. Our revolution began at the funeral of Kastus Kalinovsky. We remember this sea of white-red-white flags. Our revolution began with a massive protest against the integration of Russia and Belarus, and it was Lithuania that hid them from persecution. We fought without hope, but we got up and walked. Sergei Tikhanovsky has been in prison for a year, and bloggers and human rights activists have been given insane sentences for more than a year. We remember and mourn the beastly tortured Witold Ashurok, who researched Kastuś Kalinowski's uprising. I believe that in Vilnius there must be a street named after him. Despite torture, grenades, bullets, truncheons and threats, the Belarusian people did not retreat. This struggle has been going on for a year now. Thank you to the Belarusian people for bringing back hope. Freedom for all political prisoners! Freedom for Belarus! Long live Belarus!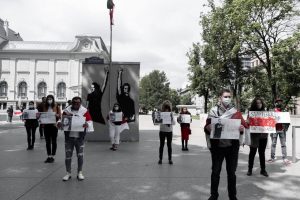 Actions to support Sergei Tikhanovsky and other political prisoners took place in other cities. In Tallinn, representatives of the Belarusian diaspora placed stickers with the names of repressed Belarusians on an old truck on Harju Street. Participants of the solidarity picket in Riga brought with them white-red-white flags, portraits of people killed by Lukashenka's regime. In Sweden, Sergei Tikhanovsky was supported by the raising of a white-red-white flag in the Stockholm municipality of Nakka. Foreign Minister of neighboring Norway Ine Eriksen Søreide also expressed solidarity with the Belarusians on May 29. In her address, she said that Oslo respects the courage and resilience of peaceful protesters in Belarus and supports them.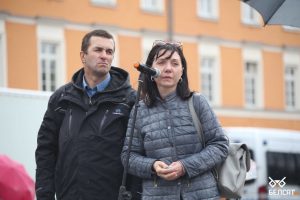 In Warsaw, the picket took place on the square in the Old Town. The participants were approached by Dmitry and Natalya Protasevich, parents of the detained journalist Roman Protasevich. "I hope the world media will cover all this and, perhaps, citizen Lukashenko, the government that obeys him, the security forces will hear my words. Why do our people suffer? Why do you hate our Belarus so much? I think so, simply because they dared to make their right choice on August 9, which citizen Lukashenko didn't like," Natalya Protasevich said in her address.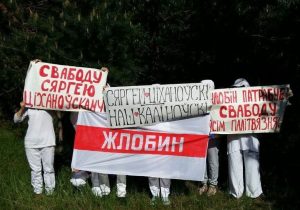 In Belarus, on the anniversary of Sergei Tikhanovsky's imprisonment, political prisoner Natalya Raentova was released – she spent 8 months in a colony for having bitten a security officer in public transport during the dispersal of a women's march on August 29. Flash mobs were also held in many cities of the country. In Vitsebsk, protesters recorded a video stating that there is a slipper for every cockroach. They went out with flags in Zhlobin, Mozyr, Borovlyany. In Zhlobin, Sergei Tikhanovsky was compared to Kastuś Kalinowski. Minsk residents from the South-West and Chizhovka neighbourhoods decorated trees with white-red-white flags and ribbons.
The illegitimate president has been trying for nine months to keep Belarusians silent and afraid – but everything he does only forces us to invent new and creative methods of struggle. ICCI "Our House" is sure that it is not long before the release of Sergei Tikhanovsky. We want to see him alive and well in the wild and thank him for waking up the Belarusians with his videos.