On 24 March, a 47-year-old translator, Olga Kalatskaya, was put on trial for slapping twice the odious STV state TV channel employee Grigory Azarenok in November. The verdict turned out to be quite harsh – two years of restriction of freedom without sending her to an open-type correctional institution. Now the Belarusian, who translated the works of Virginia Wolfe, Margaret Atwood and William Golding, has a criminal offense for malicious hooliganism.
An admirer of Belarusian literature and an independent observer, we tell you about Olga Kalatskaya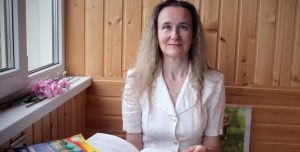 Since childhood, Olga wanted to become a translator. At school she had an excellent English teacher, thanks to whom Olga made such a decision. And during her time at university, the student fell into the circle of Belarusian-speaking youth and became interested in Belarusian culture. It is thanks to her that the books of many foreign authors have seen the light of day in the Belarusian language[1].
Olga Kalatskaya translated into Belarusian the works of Virginia Woolf, Tennessee Williams, William Golding, Paul Auster, Tony Parsons, Arthur Golden and others. The translations were published in the magazines "Krynitsa", "Dzeyaslou" and ARCHE. She also translated dozens of films and cartoons into Belarusian, including "Gladiator", "Shrek-2" and others.[2]
In addition to being a translator, Olga prepares applicants for centralized testing in English. She had been to the UK many times, but never permanently stayed there, always longing for her homeland. It should be noted that in her life Olga speaks Belarusian and is very fond of Belarusian literature, especially of Alesʹ Razanaŭ, Tatsiana Sapach, Valiantsin Akudovich and Vladimir Orlov.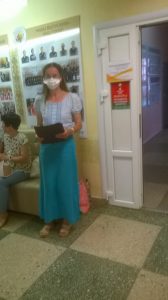 When the election campaign began in the country, Olga Kalatskaya signed up as an independent observer. She and her neighbours counted the early voting participants by head and counted 763. There were 2127 of them in the protocol of early voting. And on the day of voting, on the contrary, observers counted 3,666 voters at three polling stations, and there were only 1,922 in the protocols. Olga and four other independent observers, as expected, were not allowed to poling station, and the commission was taken out in the cars of the district administration. The results, as the translator later wrote in her diary, "are nothing but laughter and cursing" – the turnout, according to them, was 105 per cent. Together with a team of observers, they decided to draw up a statement on the initiation of a criminal case. That evening, Kalatskaya went to the Stele, where the protests had already begun[3].
In September, Olga fervently supported the students of MSLU, where she herself once studied and later taught.
"Dear ones, today most of all I want to be with you! Together with wonderful young people, thanks to whom I again began to respect my alma mater! A big, big hug to all of you! European languages probably shape European thinking and instill European values: responsibility, independence, will! You're so cool, guys! I love you! You'll do it your way! " – wrote the translator.
The death of Raman Bandarenka was particularly hard on Olga. She left the corresponding entry on her page in social networks. It was on the day of the protest march in memory of the hero on "Change Square" on 15 November that the woman had a conflict with Grigory Azarenok.
Up to six years in prison for slap in the face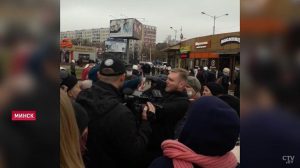 On November 15, Olga decided to go to the Western Cemetery to visit her father's grave. At the bus stop, she saw that public transport was not running. She waited half an hour, and then decided to take a minibus to the Pushkinskaya metro station, and then change to transport to the cemetery.
At Pushkinskaya, the translator saw a group of people with whom Grigory Azarenok was talking. He asked why they were there, what they knew about Raman Bandarenka, what his middle name was. At the trial, Olga recalled that, not getting an answer, Grigori asked: "How can you grieve for him if you don't know his middle name?"
– It deeply offended and angered me. I could not restrain myself, went over and gave him a slap in the face. It was a purely symbolic gesture. A special dislike arose at the moment when I heard his rhetorical question: how can you grieve if you do not know the details of a person's biography, – the woman told the court.
Exactly two months after the conflict, on January 15, Olga was studying at home with a student when the doorbell rang. The translator came up, saw that the peephole was closed, and realized that police came after her. There were two policemen at the door, who showed their identity cards and told her that she would have to go with them to the Frunzenski police department, that she would probably be detained for 72 hours. Olga got ready, took a toothbrush and paste and drove off. She already guessed that three days would turn into several weeks. It is noteworthy that Olga was detained, even though her 90-year-old mother is in her care. According to the law, in such cases, a person cannot be left behind bars. All the time the translator was in the pre-trial detention center, her mother was looked after by her students and friends.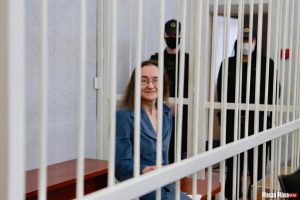 In the cell, Olga faced above all domestic discomfort: constant draughts, the terrible bathroom, which was a hole in the floor on a cement step. Later, the employees of the pre-trial detention center removed the fence from the restroom. In the two months she has been in the detention centre, Olga has not been given any information. She has never been given a copy of an independent newspaper she has subscribed for, only occasionally a state-owned newspaper has been brought to her cell. On one occasion people from the cell where the interpreter was staying shared with a neighboring cell where homeless women had been staying shortly before and who had infested the whole cell with lice. Under the threat of a hunger strike, Olga and her neighbours ensured that prisoners were given lice treatments and homeless people were given clean clothes.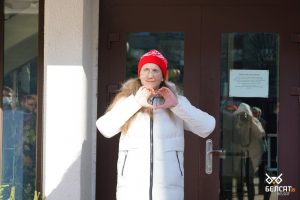 Initially, Olga Kalatskaya faced up to six years in prison. The demand for her immediate release was made by PEN America and well-known Canadian author Margaret Atwood.[4] The victim, Grigory Azarenok, said that he had no claims against the translator, because he did not consider himself offended. In addition, he wrote a motion to terminate the criminal prosecution against the woman. The state prosecution asked to reject the petition, and the court decided to sentence Olga to two years of restriction of freedom.[5]
Hater of the opposition and Ukraine – what is known about Grigory Azarenok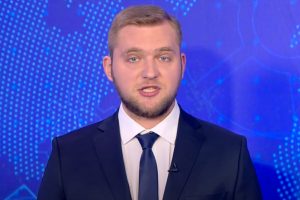 Grigory Azarenok, 25, is the son of the famous "opposition expositor" Yuri Azarenok, who compared Belarusian nationalists to collaborators in one of his documentaries. Interestingly, Azarenka Sr was also punched in the face for one of these films. This was done by opposition politician Mikola Statkevich. Then Mikola had to pay a fine equal to the current three rubles. It was Yuri Azarenok who started the series "The Secret Springs of Politics", which was inherited by his son.
Grigory Azarenok began his career as a journalist in the regional television department: he travelled around the country, took pictures of collective farms and enterprises, met people in different parts of Belarus, communicated with representatives of different professions. However, he rose to prominence by getting involved in the political agenda.
"Most of the activities of our protesters are rather ridiculous," he told the state-run newspaper "SB. Belarus today". "It is obvious that we are dealing with manipulation, with technology, people were emotionally rocked on the topic of coronavirus and were preparing for the summer campaign."[6]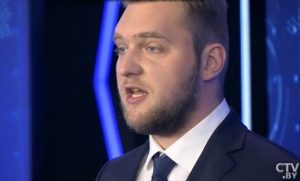 In his programs, Azarenok freely communicates with the head of the Minsk OMON Dmitry Balaba, historian Vadim Gigin, who said that March 25 is not Freedom Day. And he also does not hesitate to offend from the screen everyone who does not agree with Lukashenko's policies. For this, in the final program "Week" he has a heading "Order of Judas". Sometimes Azarenok mentions other neighbouring countries. Azarenok was put on the "Peacemaker" list for anti-Ukrainian propaganda, abuse of official power, interference in Ukraine's affairs and dissemination of Kremlin propaganda.[7]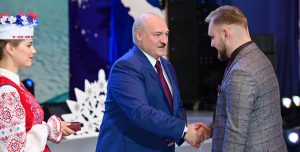 On 11 January Lukashenko signed a decree honouring state media workers with government awards. Among those who distinguished themselves was Grigory Azarenok. He received the Medal for Courage. According to the Law on State Awards, such a medal is usually awarded to servicemen, security officials, employees of the Ministry of Emergency Situations and citizens who have shown courage and courage in the performance of their military duty or in protecting the interests of the country during a war.[8]
Below are some of the brightest quotes from a state television worker:
"But the main detractor can definitely be considered Aliaksandra Herasimenia. You did not betray the president, you betrayed your uniform, your medals, your mentors and coaches, you betrayed those people who supported you, you betrayed the flag that you carried on your shoulders. You even betrayed your husband and child, left them here and chased your money there. How low you've sunk!" (about the three-time Olympic medalist, swimmer Aliaksandra Herasimenia).
[1]https://nina.nn.by/?c=lr&i=270431&lang=ru
[2]https://reform.by/194563-zaderzhana-perevodchica-olga-kalackaja
[3]https://nn.by/?c=ar&i=266774&lang=ru
[4]https://telegraf.by/obshhestvo/izbila-azarenka-perevodchice-grozit-6-let-tjurmy-za-to-chto-ona-nanesla-neskolko-udarov-sotrudniku-stv/
[5]https://news.tut.by/society/723690.html
[6]https://www.sb.by/articles/televidenie-bez-falshi.html
[7]https: // novyny.24tv.ua/ru/belorusskom-tv-ukraincov-nazvali-nishhenskim-novosti-belarus_n1567459
[9]http://www.ctv.by/novosti-minska-i-minskoy-oblasti/pomogite-ne-dat-raskolot-kollektiv-chto-proishodit-v-bolshom-teatre
[10]http://www.ctv.by/novosti-minska-i-minskoy-oblasti/grigoriy-azaryonok-ulica-proigrala-protestuyushchih-ochevidno-malo
[11]https://reform.by/208320-na-stv-prezidenta-ukrainy-nazvali-gauljaterom-komikom-i-shutom
[12]https://nn.by/?c=ar&i=269754&lang=ru
[13]http://www.ctv.by/vliyanie-polshi-evropeyskie-konglomeraty-i-stihiynoe-vozniknovenie-belorusofilov-mnenie-politologa
[14]http://www.ctv.by/novosti-minska-i-minskoy-oblasti/grigoriy-azaryonok-oni-hotyat-vvergnut-belarus-v-puchinu
[15]http://www.ctv.by/novosti-minska-i-minskoy-oblasti/grigoriy-azaryonok-esli-do-vyhodnyh-kto-eshchyo-veril-v-mirnye
[16]http://www.ctv.by/taynye-pruzhiny-politiki-2020-mnenie-grigoriya-azaryonka-o-belorusskoy-kulture
[17]http://www.ctv.by/grigoriy-azaryonok-v-etom-mire-my-obladaem-ochen-bolshoy-privilegiey-my-ne-podchinyaemsya-globalnomu
[18]http://www.ctv.by/uchenie-slavyanskoe-bratstvo-pochemu-nuzhno-usilivat-oboronu-i-umet-zashchishchatsya-mnenie
[19]http://www.ctv.by/grigoriy-azaryonok-vy-realno-dumaete-chto-ne-naydut-vseh-naydut-vseh-kto-hot-palec-na-milicionera