More than 30 thousand Belarusians have gone through temporary detention facilities and pre-trial detention centers since protests began eight months ago. Many cells of these facilities are still overcrowded. On March 31, a decree, defining the norms of nutrition and supply of prisoners with personal hygiene items, came into force. And those numbers, if not shocking, will at the very least leave one pretty surprised.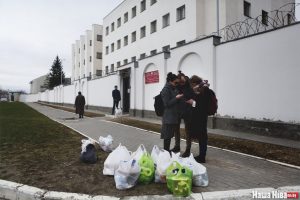 Inmates in Belarus are entitled to 90 grams of meat per day, 55 grams of fish including head (women – 60 grams), 25 grams of poultry, 500 grams of potatoes, 230 grams of root vegetables (onions, carrots, beets), 20 grams of fresh vegetables (cucumbers, tomatoes, greens), 200 grams of cereals. In one week, male prisoners can consume 4 chicken eggs, and women – 3 eggs. There are no fruits, nuts, legumes or dairy products on the menu. A little more "lucky" are the prisoners under 18 years old, who can additionally receive 10 grams of sugar, 30 grams of butter, 40 grams of cottage cheese, 125 milliliters of milk, 50 grams of meat and 5 chicken eggs per week. There is a supplement for prisoners with disabilities, pregnant women, HIV-infected, diabetes patients, lactating mothers.
For comparison, in Ukraine, the country which is often used by propaganda on state television to frighten people, the norms of consumption of meat, fish, fresh vegetables for prisoners are higher. Ukrainian prisoners eat twice as much fish (head not included) and three times as much fresh vegetables.
The norms of hygiene supplies are spelled out as a separate paragraph in the decree. Men are entitled to 4 shaving razors per month, 200 grams of laundry soap, 25 meters of toilet paper, 50 grams of toilet soap. Women will be given 200 grams of laundry soap and 100 grams of toilet soap, 25 meters of toilet paper and 10 sanitary pads. [1] By the way, during the first days of menstruation, gynecologists advise changing the pads every 3-4 hours. Thus, 10 pads are enough for just two days.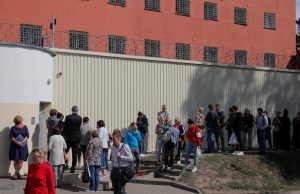 Of course, the essentials can be received in parcels from relatives, but it is easier said than done. On April 8, it became known that in the detention centre on Okrestsina Street the  parcels are given to the prisoners only after their release.[2] At the same time, delivered parcels often had some items missing such as cigarettes and sweets, even though they were mentioned in the list of contained items. In addition, in the winter, "in connection with the COVID-19 pandemic," no parcels were accepted at all. Women who got to Okrestsina in January and February had to beg for toilet paper and hygiene items from the guards. The prisoners would not receive a toothbrush or toothpaste, nor underwear from their relatives. How did they manage?
"I was lucky to have my toothpaste with me. I brushed my teeth with the toothbrush, others – with fingers. On Sunday, another toothbrush and toothpaste appeared in the cell. It was used by several of my cellmates to brush teeth and washed with baby soap after each use. Another valuable item behind the bars were spare panties that I had with me. Thanks to that, I was able to change and wash my underwear. Other women did not have such luxury. By the way, when I realized I would be released, I left the spare underpants behind for the  girls," said the journalist of TUT.BY Nadezhda Kalinina after staying at the detention centre. [3]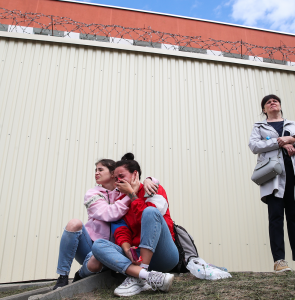 The prisoners were not provided with shampoo either and washed their hair with regular soap. Instead of a shower, prisoners used wet wipes, which were then washed and used again. Panty liners were given out one per day per person. All girls in the cell would say that they had their period so as to collect more pads for those who really needed them. The guards refused to hand over spare underwear to the inmates. It had to be washed in the evening in order to dry overnight forcing people to wear jeans over bare bodies.
Of course, these are not the only "methods" of re-education of those who are in temporary detention. Many prisoners complained about the lack of mattresses and bed linen – they had to sleep in jackets on metal bunks or in a seated position, because the cells were often overcrowded.
"On April 1, the guards began taking mattresses away from the detained," said one of those detained. The guards explained that it was because of a man who was released the day before: he wrote the truth about his stay at Okrestsina in social networks. While taking the mattresses, the guards said: "I don't know myself, the authorities called us." [4]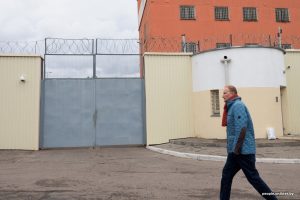 Because of the cold in the cells, the prisoners would wake up in the middle of the night and do exercises in order to somehow warm themselves up a little. Apart from that, their sleep was often interrupted by the administration of the detention facilities. It is normal practice to open the food dispensing window in the middle of the night, shout out several names and demand detainees to respond. It happens that in the middle of the night the guards arrange a line-up and search the cell in order to confiscate everything: from dried fruits and nuts to books and cross-word puzzles. In addition, detained homeless people – suffering with lice and diseases were added together with the "political" ones. The homeless people later admitted: the administration of the detention facility asked them to make conditions for the "political" detainees as bad as possible in exchange for better conditions for them.
Some of those who ended up behind bars were beaten – as in August, when large-scale protests gripped the republic. "During morning checkups, when the men were taken out into the corridor, we heard dull thumps. Then we heard how officers in the men's cell were trying to find, apparently, the culprit of some kind of violation. One of the guys responded, and he was beaten. There were many blows, as if several people were doing it. We could hear him wheezing. Then they shouted at him: "Get up". Apparently, he could no longer get up. And panicked because it is difficult to confuse wheezing with something else", – said Irina, one of those who passed through Okrestsina.
But the cruellest treatment experienced by detainees was torture with bleach. A politician, the chairman of the United Civil Party, Nikolai Kozlov, was in the isolation ward for 15 days. Once everyone was led out of the cell, two buckets of highly concentrated bleach was poured on the floor. After half a minute, everyone's eyes began to water, it caused severe gag reflexes and some people's faces started turning blue and red. Because of this, the politician was taken to the hospital.[5] It was simply impossible to write / file a formal complaint about the bad treatment in the cells – the detainees were deprived of both paper and pens. The guards did not respond to oral requests either.
The chairman of the Belarusian Social Democratic Party Igor Borisov, after serving his 15-day detention, recalled:
"After the morning "shakedown" the guards would enter the cell, throw things around, pour a bucket of bleach on the floor and immediately leave. According to longer serving inmates this happens every day. You should instantly start breathing through some cloth or a T-shirt. After this all inmates have a headache because it is simply unbearable. And you wipe this stinking water with a rag, and if there is no rag, you take off your shirt or panties to do it."
The "gas attack" was also applied to girls – the artist Liza Goncharova, who passed through Okrestsina, told:
"They would close the food dispensing window, cut off all the oxygen and just pour bleach. We had to breath this in which caused inflammation of the mucous membrane This would happen every two days." [6]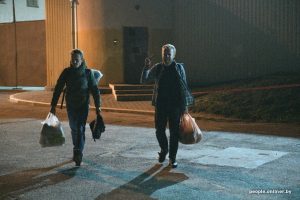 We have to clarify that such treatments are faced neither by cruel murderers nor robbers nor rapists, but only those who spoke out against torture by the authorities, who only wanted fair elections and changes in the country. People who commit violence against unjustly imprisoned will be held accountable in the new Belarus according to the law. We will no longer allow Belarusians to go through a horror comparable, perhaps, only to concentration camps.
[1] https://news.tut.by/society/724427.html
[2] https://svabod1.azureedge.net/a/31193056.html
[3]https://news.tut.by/society/717504.html
[4] https://news.tut.by/society/725621.html
[5] https://www.currenttime.tv/a/belarus-zhodino-okrestina/31202055.html