Several public opinion polls were held in protest Telegram channels this weekend. Participants were asked to choose which of the well-known democratic leaders they trusted. According to at least two polls, most people believe that Olga Karach can lead the Belarusians to victory over Lukashenko.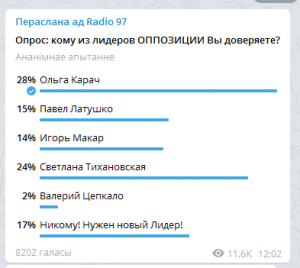 More than 8,000 people took part in the independent Radio 97 survey. Of these, 28 per cent consider Olga Karach to be the leader, while Svetlana Tikhanovskaya is on the second place, with 24 per cent of the participants voting for her. The third was Pavel Latushko with 15 per cent, the fourth – Igor Makar with 14 per cent. Radio 97 broadcasts on YouTube and covers news about living in Belarus, conducts interviews with representatives of various opposition movements, posts comments and opinions about sensational situations.
In the survey published in protest chats, Olga Karach also took first place. In second place is the opinion that every Belarusian is already a leader in their own right. On the third – Svetlana Tikhanovskaya, on the fourth – Victor Babariko. Pavel Latushko, Valery Tsepkalo and Igor Makar complete the table.
ICCI "Our House" thanks users for trusting Olga Karach. But we remind you that every leader of the opposition and every ordinary citizen of our country does everything in their power to win. We have one goal – a new, democratic Belarus with the rule of law and justice.