From April 20 to April 30, 2021, the British analytical centre in the field of international relations, Chatham House, surveyed the views of Belarusians on the political crisis using an Internet interview. Above 930 respondents took part in it – this sample corresponds to the structure of the urban population of Belarus and is adjusted for socio-demographic indicators.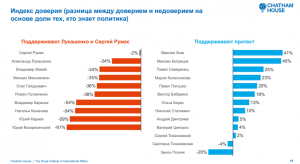 According to the results, almost 30 per cent of respondents knows what Olga Karach does. Of this number of people, 41 per cent trust Olga Karach. The share of those who trust from the number of those who know Olga Karach is higher than that of Svetlana Tikhanovskaya (37 per cent), Sergei Tikhanovsky (38 per cent), Nikolai Statkevich (36 per cent). Olga Karach's confidence index, according to the survey, is 13 per cent. This result is higher than that of Valery Tsepkalo (4 per cent), Sergey Tikhanovsky (2 per cent), Svetlana Tikhanovskaya (-2 per cent).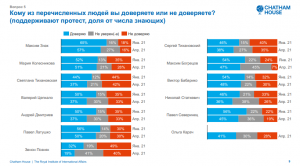 We want to note that people tend to trust independent human rights organizations (including "Our House") more. Thus, the rating of human rights defenders is 38 per cent, while 36 per cent trust the headquarters of Viktar Babaryka, 30 per cent trust the office of Svetlana Tikhanovskaya, and 20 per cent of respondents trusts the National Anti-Crisis Management.
The survey showed that people are much more familiar with protest leaders than with government officials. The ratings of protest leaders are much higher than those of government functionaries – the only exception is former Belarusian Prime Minister Sergei Rumas, who is abroad. In general, more than half of the population does not trust state organizations and bodies – Belarusians are much more inclined to trust independent media and human rights organizations.
We thank those who took part in the survey for their trust in Olga Karach and the ICCI "Our House". We hope that we will justify it further in the struggle for a free and happy future of the new Belarus.