The activist, who was sentenced to five years in prison in January, was 50 years old. In September, he became a hostage of the dictator. There have been no letters from him for the last two weeks. The cause of death, according to the administration of the colony, was cardiac arrest.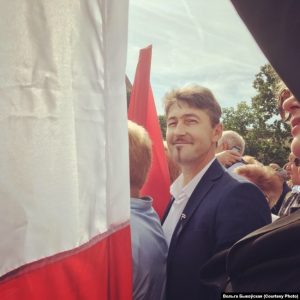 Vitold Ashurok lived in Berezovka, worked as a glassblower at the «Neman» factory, and was engaged in the building works. He participated in the protests after the 2010 elections — then he was sentenced to 12 days. After that, he joined the Belarusian Popular Front party, ran in local and parliamentary elections. He criticized the expansion of the glass factory, which would harm the environment, installed crosses in the burial places of the participants of the uprising of 1863-1864, was the Grodno regional coordinator of the Movement "For Freedom".
The activist was detained after the protest actions on August 9, 2020, in Lida. On that date, more than 3 thousand people came to the district executive committee. The action in the city was calm: people walked along the sidewalks, not interfering with the movement of cars. Vitold, witnesses say, called for patience. But then he was detained and sentenced to 15 days in prison and then released early. On September 19, 2020, Vitold Ashurk was again taken to prison-allegedly to serve the remaining term. But the activist was no longer released.
He was convicted on January 18 under Articles 342 (organization and preparation of actions that grossly violate public order or active participation in them) and 364 of the Criminal Code (violence or threat of violence against an employee of the internal affairs bodies). Vitold Ashurok went to serve a five-year term in Shklovskaya IK-17. And on May 21, the activist's wife received a call from the colony and was informed of the tragic news. The administration of the correctional facility has launched an investigation into the death of the man.
ICCI "Our House" expresses its condolences to the family of Vitold Ashurok. We hope that all the circumstances of this tragedy will be established, the perpetrators will be punished. In the meantime, the illegitimate president intends to use the political prisoners to bargain for concessions. These people are in mortal danger. After all, the activist death is not the first in the penitentiary institutions of Belarus since January 2021. We ask the international community to pay attention to what is happening in the places of detention and continue to put pressure on the Lukashenko regime. We believe that the day of release of all political prisoners will come soon, and no more of them will die as hostages of the usurper.