The first day of summer brought new tragic news to Belarusians. Stepan Latypov, 41, a resident of the "Change Square", jumped up on the bench during the trial to prevent the guards from reaching him and stuck a pen in his throat. He was taken to hospital in an induced coma. At the trial, Stepan admitted that he had been threatened by the GUBOPIK to press charges against his family and neighbours if he did not plead guilty.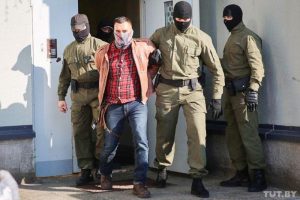 The director of Belarbo, Stepan Latypov, was detained on 15 September 2020. On that day, he was guarding a booth with a picture of "DJs of Change" from law enforcement officers who had come to paint over the mural. The man demanded that the unidentified men in civilian clothes and masks identify themselves, and in response, he was handcuffed and dragged to a car. He was accused of setting up a telegram-chat, a workshop for making protest symbols (Article 342, parts 1 and 2 of the Criminal Code), and resisting to police officers (Article 363 of the Criminal Code). In addition, he was charged with misleading clients in the provision of chemical plant protection services (Article 209 part 4 of the Criminal Code). After his arrest the flat of Stepan Latypov was searched and on September 19 the state mass media reported that Stepan had organized an illegal channel for supply of chemicals to the country and was going to use them to poison the police officers. However, this version was safely forgotten at the trial.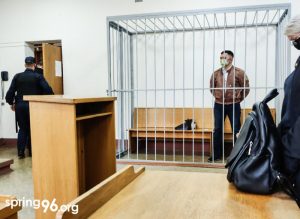 Stepan Latypov arrived at the court with swelling on his face, a bruise under his eyes, a bandage visible on his left hand from under his shirt, and a plaster on his finger. The "injured" during Stepan's arrest on 15 September police officers at the trial began to confuse the evidence and could not decide whether Stepan had hit them or only tried to. After the questioning of the law enforcers, who said that they had no claims against the defendant, Stepan's father was summoned for questioning. The last words of the political prisoner before his suicide attempt were addressed to his father: "After your visit, GUBOP came to me and promised that if I don't admit guilt, there will be a "press-hata" (a cell where convicts are forced to confess – ed.) and criminal cases against relatives and neighbours. I already had a 'press- hata' – 51 days. So, you get ready…".
After questioning his father in court, Stepan stood on a bench in a cage to prevent the guards from reaching him and stuck a pen down his throat. The man turned blue and lay down on the bench, but they did not help him immediately. The guards first started chasing people out of the hall, then looking for the keys to the cage. They carried him from the courtroom to the ambulance and he was already unconscious. He is now in hospital after an operation.
Not much is known about what happened to Stepan in prison. On 12 January 2021, the man's lawyer said that Stepan was "a strong man, hanging in there. On letters – with delays, replies to everything". On behalf of Latypov, his lawyer thanked everyone who supports the political prisoner and noted that this is very important to him. Since 11 April Stepan was kept in a punishment cell together with people with mental disabilities.
ICCI "Our House" demands an immediate end to the pressure on political prisoners. We call for the release of Stepan Latypov and other prisoners of Lukashenka's regime, as well as an end to the shameful "trials" against peaceful Belarusians. After the departure of the dictator we promise to punish all those responsible for the mockery of political prisoners.