The revolution in Belarus is often called a women's revolution – it was women who united in a trio during the election campaign, who went to marches on Saturdays and, risking everything, tore off the masks from the riot police, stood in a clutch, defended themselves. Women are responsible for taking care of children and the whole family during emergency relocation from Belarus. And now, there are many brave and strong Belarusian women in the opposition. All of them want to return home more than anything else in the world. However, at the same time, the illegitimate government continues to underestimate the ladies and repress particularly prominent ones. This week in "Our House", we will tell you about the brave, courageous and energetic Belarusians, of whom, we are sure, there are a lot in our country.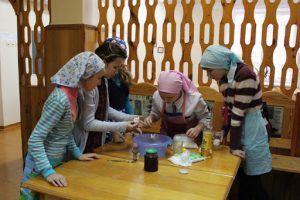 Discrimination against Belarusian women begins with the lessons of labour training at school. Boys study carpentry, and girls learn to cook and sew. In the documentation of the Ministry of Education, labour training for boys has the name "technical work", and for girls – "service work". It turns out that the Ministry of Education has been offering to raise a servant from a girl since school, and not a person who can hammer a nail, fix a faucet, and adjust the handle. The choice of sports sections at school is also less for girls than for boys. For example, girls cannot get into hockey-despite the fact that there are women's hockey clubs in neighbouring Ukraine and Russia, the Belarusian team has not yet been formed. It began training, but after a few years, it was abandoned due to financial costs. In Belarus, there are also no hockey sections for girls.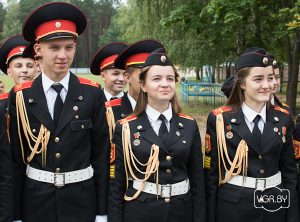 This attitude towards Belarusian women continues even in adolescence when it is time to choose a place of study. It is no secret that there are much fewer places for girls in cadet classes and cadet schools than for boys. The Minsk Regional Cadet School website says: "The number of girls accepted for training is limited." More than 50 boys and only 20 girls were enrolled in the Vitebsk Cadet School this year. There is no recruitment of girls at all to the Mogilev Regional Cadet School and the Specialized Lyceum at the University of Civil Protection of the Ministry of Emergency Situations of Belarus.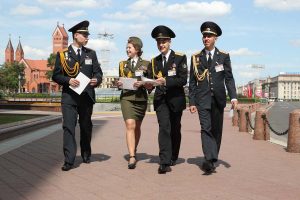 However, even if the girl manages to finish the cadet class, she may not get to the desired military speciality. For example, the Military Academy of the Republic of Belarus has been taking cadets for several years only for four training programs out of 30: "Practical psychology in military affairs", "Telecommunications systems", "International relations in the military sphere", " Information and Communication technologies (special purpose telecommunications systems)". The set is limited — two or three girls each. This year, the Academy of the Ministry of Internal Affairs was ready to take only 15 students for the specialities "Forensic forensic examinations" and "Jurisprudence" (specialization "Criminal Enforcement activity"). In 2020, only 15 girls entered the University of Civil Protection of the Ministry of Emergency Situations of Belarus for only one speciality – "Fire and Industrial Safety". However, we must pay tribute to the state: this year, for the first time, Belarusians could enter the Institute of the Border Service for the speciality "Management of border control units".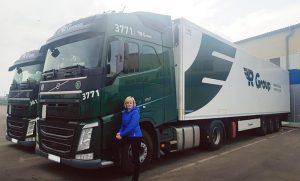 If a girl graduates from college or university, this does not mean that she will find a job in her speciality. There is still a list of 181 positions of professions prohibited for women in Belarus. Our women cannot be carpenters, crane operators, bulldozers, excavators, woodcutters, carpenters. They cannot cut up animal carcasses, perform any work higher than 130 centimetres. They are forbidden to be metro drivers, work in a mine, underwater, on fires and in some chemical industries. But there are the highest salaries in the country – and only men receive them. And, of course, a woman in Belarus is unlikely to take a high political position. Let's recall the words of Lukashenka: "Our Constitution is not for a woman. And our society is not ripe for voting for a woman. Because according to our Constitution, the president has strong power." Of the 110 deputies of the House of Representatives, just over 40 are women. Of the 64 members of the Council of the Republic, only 15 are women. Belarusian women are allowed into the government less willingly. Perhaps, that is why the authorities extinguish the light of the women activists' activities for many years.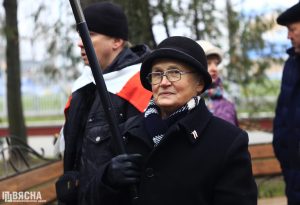 From the very beginning, the Lukashenka authorities dismissed women, put them in prison for their active position, and deprived them of the opportunity to raise children. For example, in 1994, Nina Baginskaya was dismissed from the Belarusian Scientific Research Geological Exploration Institute for a report in the Belarusian language. On August 1, 2014, the activist appeared under arrest for burning the USSR flag at the KGB building in Minsk. She got detained for performance in memory of Mikhail Zhiznevsky in 2015 and action in the Kurapaty tract in 2019. For many years, the regime has fined the activist for 20 thousand dollars.
In 2004, the regime killed Veronika Cherkasova, a journalist of the independent newspaper Salidarnast. She conducted investigative journalism, wrote on social issues (problems of the "common man", sects, the Roma minority) and the question of arms trade between Belarus and Iraq. Veronika died in her apartment – an unknown person inflicted about 20 stab wounds on her.
After the 2010 elections, women suffered greatly from repression and torture in prison. Journalist Natalia Radina spent a month and a half in the KGB pre-trial detention centre in Minsk – when she got arrested, one of the security forces hit her in the face. After the forceful acceleration, the police severely beat her. Securities came with a search to the apartment of Milana Mikhalevich, the wife of opposition candidate Alexey Mikhalevich, seven times – her daughter was also searched. Then the family was stopped in the process of leaving for Warsaw and banned from leaving Belarus. Human rights activist Raisa Mikhailovskaya spent four hours in the police station without a lawyer. Tatyana Severinets was detained and forcibly taken for questioning. She was going to the train station, and so that she would not leave, the KGB took her passport from her. Irina Pankovets was fired from the cooks of the Staroborisov secondary School after ten days of imprisonment for being present on Independence Square on the evening of December 19, 2010. Anastasia Polozhenko, Deputy Chairman of the Young Front movement, was arrested.
The repression of women continued in 2011. Olga Karach, suspected of involvement in the terrorist attack in Minsk on April 11, 2011, also fell under them. She was detained when she came to learn about the fate of the arrested colleagues. The head of the Frunze district police Department, Oleg Gaidukevich, ordered the head of public security of the Frunze District Police Department, Dinas Linkus, to deal with her in the usual manner. Linkus beat her and, at the same time, described in detail what he wanted to do with her.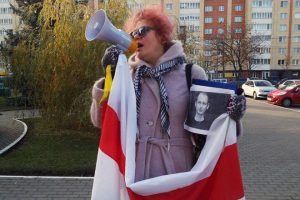 The documentary filmmaker Olga Nikolaichyk, who made more than 20 films, including political prisoners, was subjected to repression. By 2017, she had accumulated 10 thousand euros in fines and 27 days of administrative arrest. To pay the fines, she was forced to sell her house. One day, when she was put in the centre for the isolation of offenders on the Okrestina, when trying to get on the bed, she hit her chest – the pain lasted for a very long time. To escape from repression, she went to Ukraine – but when she returned to Belarus, she again fell under the ice rink of the system. In 2020, she spent 58 days in prison, 17 in a punishment cell on a concrete floor without glasses and medicines. She was not allowed to take a shower, not taken for a walk, not given letters.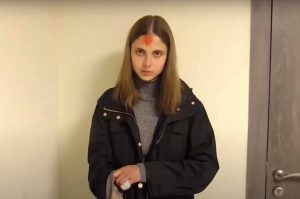 After the 2020 elections, the number of women political prisoners bullied in Belarusian prisons has increased significantly – according to the human rights centre "Viasna", 75 Belarusian women are recognized as political prisoners. But in fact, there are much more of them. Many had to go through torture. The student Anastasia Bulybenko was marked with coloured paint during the arrest, and in custody, her psoriasis worsened, and she needed medical help. Minor daughters of Elena Movshuk, a mother with many children, gone to the orphanage. Another mother of many children, Olga Zolotar, experienced physical violence – bruises were on her body. Ksenia Lutskina, a former journalist of the state television, does not receive medical care. She suffers from a brain tumour in the dungeons. Human rights activist Marfa Rabkova was not allowed to say goodbye to her deceased father and grandmother. Our colleague, the human rights activist of the ICCI "Our House" Yulia Goryachko, is also in prison now.
Women are tortured physically and mentally. In 2006, the notorious Decree No. 18 was issued, which allows the state to take children from families where they are "in danger". This decree is an opportunity to manipulate mothers with an active civil position, silence them and stop their activities. In 2011, the guardianship authorities became interested in the three-year-old son of Irina Khalip, the wife of former presidential candidate Andrei Sannikov. In 2014, Anastasia Antonenko from Vitebsk was taken to the orphanage. The girl's mother, Natalia Antonenko, wanted her daughter to be transferred to another desk because of scoliosis. Then mother noticed that the children didn't get checks in the school cafeteria. The education department did not come up with anything better than to take Anastasia away, justifying this decision by saying that it is dangerous for a child to be in a house with a faulty oven. The same thing happened in the Mironov family from Minsk: in 2017, due to Tatyana Mironova activity, her daughter, Elvira, was taken to a shelter. In the same year, the authorities wanted to take away the 10-year-old son of an opposition journalist from Gomel, Larisa Shchiryakova. The daughter of the Molodechno activist Olesya Sadovskaya, 8-year-old Katya, was taken to a shelter because her mother wrote complaints to the city authorities. And in September 2020, the son of the activist of "European Belarus", Elena Lazarchik, got into the shelter.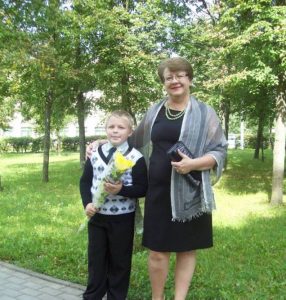 Children can be taken away from the family for their mother's administrative punishments, unpaid utility bills. Olga Kanatovskaya's son from Minsk was taken to a shelter in 2018, as Olga has a prison sentence behind her. The grandson of Kristina Bogret from Vitebsk was sent to a boarding school in 2016 when her grandmother was hospitalized and was not returned – the woman had to go to court. In the same year, a resident of Vitebsk, Tatyana Chervyakova, had her 14-year-old son taken away – she had a debt for utilities. And the adopted child Nikita was removed from Svetlana Grechulina from the Orsha district family since the child underwent an ultrasound, not in Orsha, but Minsk.
The most disgusting thing is when children are taken away for experiencing domestic violence, where both mother and child are victims. If a woman declares that her husband beats her, the information will automatically transmit to the education department. And they assign the family the status of being in a socially dangerous situation and can take the child away at any time. Although the guardianship authorities that monitor a dysfunctional family should help solve family problems and not control and punish. Thus, a woman experiencing domestic violence remains alone in Belarus. She has no help from either the police or the education department. And according to the Ministry of Labor and Social Protection, every day in Belarus, the internal affairs bodies receive about 500 reports on the facts of family and domestic conflicts, of which over 70% are cases of domestic violence against women and children. Even in the crisis rooms provided by the state, a victim of domestic violence will not find support – or rather, she will, but the question is whether this will not turn into even more significant problems. Victims of domestic violence in search of protection turn to shelters at monasteries, public organizations – and they are not even in every district centre. Therefore, most women prefer to endure the beating of their husband, father or brother until it ends in tragedy.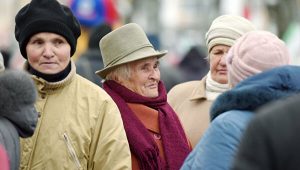 Retiring at the age of 58, Belarusian women often feel lonely: children have grown up, husbands often die earlier – they live on average 64 years and ladies-78 years. Alone, pensioners are doomed to engage in gardening or stay at home. There are few state associations of interest for retired women in Belarus, and volunteers work in them. At some centres of social service of the population, circles are paid. The minimum pension in Belarus is 278.91 rubles (94 euros), the average is 512.78 rubles (173 euros). With this money, women pay utility bills (which in winter reach up to 100 rubles (33 euros)), buy medicines, and often help children and grandchildren. In this scenario, how can you force them to pay for participation in an interest club?
The Belarusian state once again shows that elderly women, who sometimes live much longer than their spouses, are not needed by anyone. It was also confirmed by last year's repressions against pensioners. Let's recall a few stories. 73-year-old Eva Bykovskaya from Gomel stood up for the guys who were detained by the police. A riot policeman, passing the pensioner to colleagues, said that her father was a policeman. 75-year-old Iraida Misko from Borisov was photographed with a white-red-white pastille and received a fine for an unauthorized picket. 79-year-old Minsk resident Larisa Sous, a disabled person of the 2nd group, spent more than six hours in the police station after the solidarity march. 87-year-old Minsk resident Elizaveta Bursova received a fine of 405 rubles (136.5 euros). She hanged a white-red-white flag on the balcony. 89-year-old Valeria Smirnova was detained in Minsk. She had to spend six hours standing in the police department, and then she was fined 810 rubles (273.16 euros).
The life of a Belarusian woman is full of discrimination, distrust, and repression. The Belarusian state forces her to prove for years that she deserves the best and can be the leader. The usurping power intimidates her and threatens to take away the most valuable thing – children, so that the woman becomes a weak-willed slave. Women are repressed in prisons. They are not allowed to follow basic hygiene, thereby undermining their health – and this is in a state that cares about increasing the birth rate. We are sure that our girls, girls, women, daughters, granddaughters, mothers and grandmothers deserve the best.