According to the USA State Department statistics, Belarusian police identified 109 victims of human trafficking last year. And 107 of them were subjected to sexual violence. There are 34 minors among the victims. These figures made it possible to exclude Belarus from the countries where the "policy and model" of human trafficking is traced. Belarus was on this list until 2020. Sexual slavery is a fairly common phenomenon in Belarus: almost every year in our country, police identifies women who earn a living by prostitution – most often not of their own free will.
This year, the Ministry of Internal Affairs reported eight crimes related to the involvement of Belarusian women in prostitution. The two girls who suffered from this were minors. In March 2021, the Investigative Committee completed a case involving a 17-year-old girl in sexual relations for remuneration in Vitebsk. The young Belarusian, according to the Investigative Committee, agreed to this voluntarily in correspondence with a 26-year-old young man. The man himself posted ads on the web, corresponded with numerous potential clients, discussed with them the terms of the meeting for the provision of sexual services. When he brought the teenager to the first client, police detained him. In January 2021, a Molodechno resident persuaded a 16-year-old girl to prostitution. The man himself found a client for the schoolgirl, which he turned out to be, already under his real name. Molodechno resident faces up to 10 years in prison with a fine.
In 2018, a man from Minsk involved 38 schoolgirls from all over Belarus in prostitution. He searched for victims in social networks, choosing favour of orphaned girls, girls whose parents suffer from alcoholism, schoolgirls from single-parent families. At first, he charmed, complimented, gained confidence, and then began to persistently offer work with beautiful, pumped-up boys who would do everything themselves. The schoolgirl would only have to receive money. Some of the potential victims refused and blocked his page. And some accepted invitations to photoshoots, which, as promised by the pimp, will be without intimacy. However, it was not difficult for a man to promote a naive girl in a photo in frank poses. Belarusians agreed to be prostitutes. One of the victims said: "At first we corresponded for a long time, I didn't trust him. Then, together with a friend, we met. He taught us everything we had never done before that day. He paid $20 to each of us. We met with him two more times. Then there were others from him. I don't remember exactly how many, about 50 people."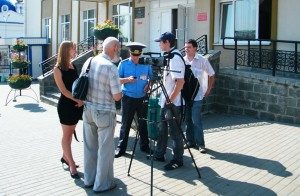 It is known that early sexual life can affect the fragile psyche of a child: shyness, complexes, suicide and addiction to alcohol, drugs. The saddest thing is that the girls don't do it of their own free will. Someone is intimidated, someone gets expensive gifts (and there are not so many of them among orphans or daughters of poor parents), someone is forced by violence. These people hide in schools and children's sections, may find themselves among neighbours, and sometimes even among parents and relatives. In 2012, "Our House" wrote that paedophiles were operating in Orsha under the banner of the Association of Homeowners "Orsha — Youth" (winner of the republican contest for the improvement of playgrounds and yard territory). Here they created a porn studio, where they filmed videos with minors for eight years. The police managed to prove 33 episodes. Paedophilia flourished for eight years in the city, and neither the police nor the prosecutor's office reacted. Even the local "Arshanskaya Gazeta" kept silent about this high–profile case — and after all, just a year before, she had praised the association "Orsha – Youth". When our journalist suggested that the criminal could have influential patrons among high-ranking officials, the police opened a criminal case against him.
Sometimes the closest people can drag you into sexual slavery. For example, in the summer of 2015, a paedophile, who had been shooting porn videos with children for 20 years, met two women, residents of Novopolotsk, and their daughters, born in 2011 and 2013. He offered the mothers money to shoot their babies in a video. He also suggested using the depicted children for sexual exploitation. Buyers from abroad settled with him using cryptocurrency, and he gifted the mothers of his victims with money and products. In addition, the man arranged "sex tours" for paedophiles-foreigners. For the abuse of a child, he asked for 2-3 thousand euros. The state was also not interested in these things, and meanwhile, a paedophile raped Belarusian children for three years. When colleagues from Moscow informed Belarusian police that a paedophile was allegedly hiding in the country, they detained him. Another question is why the girls' mothers agreed to shoot their daughters in pornography. Perhaps it was disgusting, but the only way to solve financial problems – women were lonely. The average salary in Novopolotsk in 2015 was 8 million rubles (800 denominated rubles). However, many residents did not receive even 3.5-4 million (350-400 denominated rubles). By the way, we still don't know what punishment awaited women who allowed their daughters to be filmed in porn videos.
Last year, a man was detained in Vitebsk who forced his disabled girlfriend to engage in prostitution. A 20-year-old Vitebsk resident was a disabled person of the first group and could not move independently. He was looking for her "clients" through social networks: he placed ads where he offered an intimate meeting for money with his alleged wife. Having agreed, he brought the girl by public transport. Customers paid 50 rubles for an hour of lovemaking. This story shows the attitude of the Lukashenka regime towards people with disabilities: no one will stand up for them, and they have to cohabit with a pimp because it is better than getting into a nursing home. It is easy to force them to engage in prostitution, threatening to get into a closed institution. And there is no other way for girls with disabilities to earn money. There are enterprises for people with disabilities in Belarus, but not in every city, and their salaries barely reach the minimum. Only disability benefits remain – in the summer of last year, such an allowance was about 280 rubles (less than 100 euros). A 20-year-old girl was a slave not only to her roommate but also to the country.
Even though the police are looking for people engaged in sexual services and constantly blocks the exporting girls abroad channels, there are still "moths" in the country. After all, they fine mainly those women who work on the highway. The services of elite priestesses of love cost from 300 to 1000 dollars, or even more. And they select the girls much more carefully because they are put in bed with top officials and even with Lukashenka. The corresponding investigation was conducted by employees of the Telegram channel NEXTA in preparation for the film "Lukashenko. A golden bottom."
"Moths surround our flashlight as soon as it gets dark, throughout his dictatorial career. Recruiting of sex slaves for Lukashenka was put on the conveyor belt," the journalists say in the investigation. Girls for the dictator are "forged" in model schools, beauty agencies and selected through the "Miss Belarus" competition, organized by the National Beauty School. Any girl among the ten most beautiful in Belarus can get into sexual slavery. And if she wins the contest, she is guaranteed a place in Lukashenka's bed.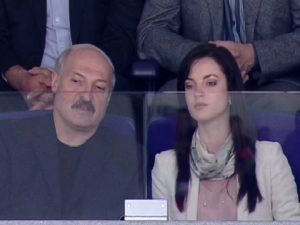 Judge for yourself. In 2008, Polina Shuba became the finalist of Miss Belarus, whom Lukashenka noticed as a child during a visit to Starye Dorogi – 13-year-old Polina handed the dictator a bouquet. At the age of 15, Polina became a model, managed to work in Milan, Singapore, China, Indonesia, Lebanon, Moscow. Having reached the final of the "Miss Belarus 2008" contest, she reminded the dictator of a long-standing visit to the Starye Dorogi – Lukashenka later told about this in an interview. In 2011, Polina became a participant of the republican ball for university graduates, where she danced with Lukashenko. Despite the diploma of an economist-marketer, the girl went to state television and immediately began to conduct news releases. She also began to accompany Lukashenka at events, on business and on informal trips. In 2019, it became known that Polina took the position of deputy head of the production department of the Belteleradiocompany's TV News Agency.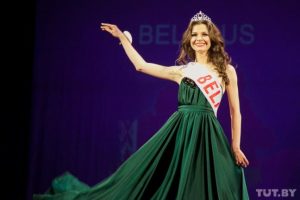 The winner of the international interuniversity competition "Queen Spring-2013", Daria Shmanai, got into the presidential protocol service. In 2015, Lukashenko told about his assistant to Russian journalist Ksenia Sobchak: "We have glorious girls working in the protocol service. They ask, can I sit with you, please! If I had a girl like Daria Shmanai – it's through the roof!". Daria Shmanai was a regular participant in informal events with the participation of Lukashenka and, in particular, helped him with harvesting on his plot in Drozdy. In 2019, Lukashenko took Daria Shmanai to a meeting with the former President of Kazakhstan, Nursultan Nazarbayev, and invited him to kiss the girl.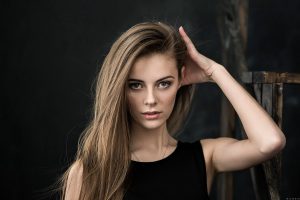 In 2016, the dictator's attention switched to the finalist of "Miss Belarus", student Alina Roskach. It is noteworthy that the girl lived without her parents. Personal acquaintance with Lukashenka helped Alina to get a special prize – a financial grant. And soon, Alina became a participant in the ball of university graduates, then accompanied the dictator at the festival "Alexandria gathers friends". At the end of November 2017, Alina was among the protocol service employees. In 2018, as part of the "Snow Sniper" competition, Alina Roskach entered the ski track in the team of Alexander Lukashenko.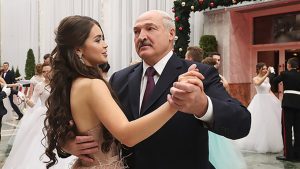 In 2018, a 21-year-old student of BSEU, Maria Vasilevich, won the "Miss Belarus-2018" title. During the contest, Lukashenka was in the hall and personally watched what was happening on the stage. In the same summer, the dictator took a 21-year-old girl with him on a business trip to the "Kolkhoz "Rodina" in Belynichi. He jokingly offered her a new job as director of an agricultural enterprise. Having gone to international competition, Maria Vasilevich took fifth place there and became the most beautiful girl in Europe. At the New Year's ball at the Palace of Independence in 2018, she danced with Alexander Lukashenko. In April 2019, Maria accompanied Lukashenko at the Republican clean-up, then became the host of a morning show on the main state channel. And in November 2019, the girl became the youngest member of the Belarusian parliament. She accompanied the dictator to the Dynamo-Minsk hockey matches, sat next to him at the opening ceremony of the II European Games and the "Slavic Bazaar in Vitebsk", travelled in his company to the 1000th anniversary of Brest. In January 2020, the British "The Times" wrote about the romantic relationship between Vasilevich and Lukashenko. Maria reacted to the publication on her Instagram: she spoke out for freedom of speech, drew the users' attention that a well-known world publication allows itself to publish false facts. In August 2020, Maria Vasilevich called for an end to violence and then went to the hospitals to the Belarusians injured in the protests. The young deputy offered help if they had problems when applying to the authorities.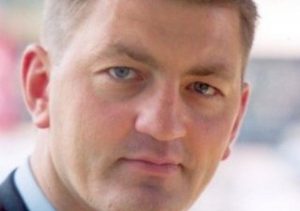 Not only adult girls but also children fall into sexual slavery to officials. In December 2020, "Our House" released a video about paedophiles in the dictator's inner circle. Olga Karach told a terrible story: in 2016, Vyacheslav Davydovich, an employee of the Lukashenka Administration and the head of the charity organization for helping orphaned children, was tried in Minsk. From April 2010 to November 2012, the official committed sexual acts with children from orphanages. He took the boys to Minsk ostensibly on an excursion, but they ended up in his cottage in the village of Zatsen, where sexual contacts took place. Nikolai Karpenkov, who now holds the position of Deputy Minister of Internal Affairs, made great efforts to protect Vyacheslav Davydovich. The paedophile was jailed for only five years – while teenagers who smoked marijuana get 8, 10 and 12 years. The directors of orphanages who entrusted children to a paedophile remained unpunished. There were no clients in the dock who used orphan boys. And this means only one thing: the clients are officials and heads of departments close to Lukashenka. Our video about paedophilia surrounded by the dictator got more than 370 thousand views.
There are many more victims of sexual slavery in Belarus than the US State Department report indicates. Not everyone became such of their own free will. Not everyone is ready to talk about it – after all, among the clients of sex slaves are just the same officials close to the dictator. We hope that we will find out their names after the victory of the Belarusian people and that they will answer to the full extent of the law for the crippled psyche of children and involvement in prostitution.