In the XXI century, there are still places in Belarus that cannot be called anything else. Perhaps, penal camps are the best definition for medical and labour dispensaries. These are places where, since Soviet times, avid drunkards live – but now, an unemployed person, a single mother, and just a person who once failed to pay with alcohol can get into Belarusian MLDs. Despite the name "dispensary", its prisoners face prison orders, humiliation, torture and slave labour. That's why "Our House" launched the campaign "Belarusian GULAG".
We started writing about MLD long before the name "Belarusian Gulag" appeared. In 2013, we quoted the words of human rights activist Valentin Stefanovich, who said that MLD is a prison: "Alcohol addiction is not treated forcibly, especially by forced labour. Usually, work in MLD is work either on construction sites or on collective farms. We once did a mission regarding forced labour in Belarus, and the report should appear soon. In particular, we considered the use of forced labour for people isolated in MLD with alcoholism. We were in the Gorki district in the village where the women's MLD is located and just watched them being brought from work and taken away. That is, with a police officer, they are messing around with objects of various kinds in an organized manner."
In addition, in the dispensaries, money is withheld from prisoners for food and clothing, so they have very little of what they have earned. However, they can only be called prisoners informally: according to all documents, those who got into the MLD are not arrested or convicted. They are just isolated from society. A person is deprived of freedom just like that, without connection with any offences. If he violates the rules already in the MLD itself, he will live here for six months – due to an antisocial lifestyle. And sometimes political prisoners get there – we wrote about this case on our website.
In 2013, the Pervomaisky district court of Minsk considered the case of former political prisoner Vasily Parfenkov. In 2011, he was convicted of mass riots in Minsk on December 19, 2010, and sentenced to four years of imprisonment in a high-security colony. But his term ended earlier thanks to Lukashenka's decree on pardon. But even after that, the authorities continued to pursue Vasily. In 2013, he was first charged under article 24.12 of the Code of Administrative Offences (violation of the rules of preventive supervision) and sentenced to five days of arrest. But Vasily Parfenkov did not go free – he was already tried under Article 421 of the Criminal Code (non-compliance with the requirements of preventive supervision) and sentenced to one year in prison with compulsory treatment for chronic alcoholism.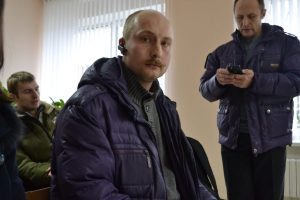 In 2016, "Our House" supported the son of the famous Bobruisk blogger Oleg Zhelnov, Alexey, who fell into the slave bondage of MLD. The fact is that Alexey received three years of restriction of freedom for violence against an employee of the internal affairs bodies – political prisoners are now getting this article. However, Alexey and his father were detained with the use of force and did not hurt anyone. While serving his sentence, Alexey worked as a cleaner at the MLD, where he got part of his salary. For this, Alexey filed a lawsuit against the MLD. He wanted to make changes to his employment contract with the institution.
But the Belarusian GULAG is not only an MLD. These are also colonies, correctional institutions of an open type – the so-called "chemistry". After all, here, prisoners have to work for low wages or even for food and clothes in general, like real slaves. In 2017, "Our House" participated in a round table "Detention in prisons and temporary detention facilities: norms and reality". Our representatives told about the bullying of prisoners in colonies, the artificial overcrowding of places of deprivation of liberty, the inability to appeal a court decision and the penalty imposed by the prison administration, and other obstacles. At this round table, we touched on the topic of slave work in MLD. And they clarified that there is no parole for those staying in the medical and labour dispensary, but there is a risk of getting here again or not coming out for a long time for any violation.
In 2018, Lukashenka amended Decree No. 3 "On the prevention of social dependency". According to these innovations, an unemployed person was considered an asocial element. And non-working Belarusians who lead an antisocial lifestyle should be sent to medical and labour dispensaries on a meagre salary and slavery working conditions. Oddly enough, the presidential newspaper "SB. Belarus today" praised this inhumane and non-respecting human rights decree. In response, the human rights activist of "Our House", Valery Shchukin, told in detail which articles of the Constitution of the Republic of Belarus violate the decree. It is article 41, which forbids forced labour, article 58, which prohibits abandoning their rights. It is article 21, which calls ensuring the rights and freedoms of citizens of Belarus the most significant goal of the state. And finally, article 2, which states that human rights and freedoms, the guarantee of their awareness is the goal of society and the state.
In 2019, "Our House" told about state slavery in Belarus. The state uses slave labour, covered by current laws and practices. In our article, we clarified that Belarusian slaves are people working at state-owned enterprises, income from which goes to the state budget: "Products made by the hands of Belarusian slaves are actively exported to various countries, including the West. At the moment, Belarusian products made by state slaves are exported to 21 countries, including Great Britain, Germany, France and Belgium. The Belarusian state's earnings from slaves are impressive. In 2018, state-owned enterprises using slave labour paid 1.5 times more taxes than enterprises registered with the Ministry of Industry."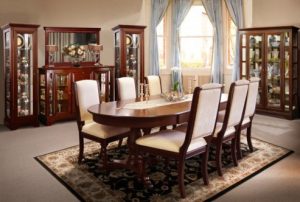 The products produced by slaves were presented at the exhibition "Meblepolska 2019", one of the largest exhibitions of the furniture industry in Central and Eastern Europe. Furniture made by the hands of prisoners, MLD prisoners, was presented by a delegation of the Department of Corrections of the Ministry of Internal Affairs of the Republic of Belarus, headed by the Deputy head – Head of the Department of Organization of Production and labour use of the specific agent Oleg Laschinovsky. The Department of Corrections in Poland visited private enterprises and tried to negotiate cooperation with the Polish Railway. And below in that material we gave figures from the payslips of Belarusian prisoners: the amounts of earnings in them ranged from 0.25 euros to 14.69 euros per month.
The material accumulated over many years allowed us to launch the "Belarusian GULAG" campaign, within which we began to reveal the horrific details of life in MLD and prisons. Why was it decided to start making the facts public? 82% of citizens in MLD are previously convicted, which easily removes them from the attention of the press, society and human rights defenders. These people have no one to complain to. They do not receive medical care. For any violation, they get into a disciplinary room. The MLD administration doesn't enter into labour contracts with people. The Labor Code or other legislative acts is not credited to the pension experience. Human rights defenders and independent public organizations cannot get there. Human rights are getting worse every year – and there is a lot of evidence of this. We published some of them on the website of "Our House".
In March 2021, we published an honest story by Margarita Kosobutskaya, whose husband got into a medical and labour dispensary. The police were not stopped even by four minor children in the family. The husband was officially employed and worked in Minsk. Before the elections, he became interested in politics, and on August 9, 2020, he participated in a protest rally in Kobrin. On August 10, a man and his friend began to throw smoke bombs. He came home with emotions and the next day wrote a post on social networks. Here, he addressed Lukashenka directly and expressed everything he thought. The security forces began to be interested in Vitaly, and in February 2021, he was detained and brought to the MLD. Earlier the inhabitant of Kobrin already passed through court for sending to a dispensary – it was a consequence of the conflict with the chief of the local police. Therefore, after the new detention, he did not end up in the detention centre. The security forces were not stopped even by the suspicion of Vitaliy's cancer and the need for medical care.
"They are dragging their feet on purpose. There were cases when people came out after a year, and nothing could be done. There were cases when people died there and were buried in the cemetery. Relatives after some time began to search, and they were confronted with the fact: "They have already been buried. We can't help anything," Margarita Kosobutskaya shared.
In June 2021, we released two candid stories about everyday life in MLD No. 5 Novogrudok. An anonymous author told about how the prisoners of the dispensary are diagnosed with alcoholics. After arriving at the dispensary, people got into quarantine for 14 days – like in prison. Here they are in the cold, are searched and kept on the street without clothes. You can get an appointment with doctors only once a week. For an elementary medical procedure, you need to connect a lawyer, relatives and the prosecutor's office.
"People are being maimed, driven to suicide. People come out of here with disabilities in the literal sense, with injuries, with torn backs, people's psyche does not stand up, they are taken out of here to a psychiatric hospital. Everyone tells me that when people are released from here, they weigh 10-15 kg less than when they arrived. Not surprising. Nutrition, nerves, hard work. There have already been five deaths in less than a year. The guy opened his veins, and it turns out he had three days left before his release. Didn't sleep, didn't eat, snapped. The man had two weeks left to go home and got a nervous breakdown. They were taken to a psychiatric hospital. Management is not always in a hurry to inform relatives about the death of their loved ones. Sometimes they are buried in the local cemetery. When relatives realize that something is wrong, they are informed that their husband or relative is buried, that they could not notify because of some mistake," the author of the messages shared.
The second letter was even more creepy – it described the life of the dispensary, living conditions, food. For example, mould was waiting for the prisoners on the windows. And in quarantine, like real prisoners, they were shaved bald. There is no water coming down in the toilets, so you have to take a bucket with you. Damp, curtains or tulle are prohibited in the sections. The room with sockets and boilers opens according to the schedule for only an hour, and things are also in a separate room available at a certain time. It's inconvenient for people who work until 00.00 – they can't get into these rooms. In MLD, it is easy to catch lice, and you have to shave and wash under ice water. The food is also poor – the portions do not meet the standards, the vegetables required by law are absent.
"One day, there was an incident in the dining room. During lunch, a man got a whole boiled mouse in the soup. The whole squad refused to eat and left without lunch. The floor is constantly greasy, and I slipped a couple of times. Also, 29 tables are wiped with 2-3 rags. The detachments have eaten — the tables are wiped with rags without any detergents. The next two detachments come in. Therefore, the tables are constantly greasy, as is the floor. When you eat, it's better not to look at what gets into the spoon. You scoop blindly and swallow. There are rotten potatoes and chunks of fat. The guys told me that pigs used to be raised in the farmyard, and often you could find pig's eyes and teeth in potatoes," the prisoner describes the MLD kitchen.
These are just a few of the horrors of slave labour in Belarus. We are constantly getting new information about what is happening in prisons and MLDs and do not cease to be surprised. But it is probably impossible to come to terms with terror, bullying, and slavery in your native country. Therefore, the team of "Our House" does not stop – we will continue to tell the truth about the atrocities of the illegitimate dictator Lukashenko until victory.