For many years, «Our House» has been fighting for children convicted of minor drug offences. Even though the security forces are now more busy looking for those who do not like Lukashenka, children are still getting into prison for many years. At the end of the year, we want to share what we have done over the past twelve months.
In January 2021, a video on the life of underage girls convicted under Article 328 in the colony appeared on the NASH DOM TV channel. Girls detained and sentenced under Article 328 for 8, 10 or more years almost do not fall under the amnesty, and they have little chance of appealing. It is from them that families most often turn their backs upon learning about the sentence of 10 years in prison. Even after prison, the 328 girls have no one to go to. In the video, Olga Karach spoke about the hard life of girls in colonies together with adult women and how the state uses them.
In February 2021, Marina Chepko, a representative of the Mother 328 movement, died of coronavirus. Her son Milad was detained at 17, sentenced to 11 years and could not even visit his mother funeral. «Our House» prepared an expert opinion on violations of Milad Nasser rights and noted that Milad got severely detained. He had several more attempts to arrest him, his phone got tapped, but no charges were brought against him.
In March, «Our House» prepared monitoring on the situation with underage orphans-328 in prisons in Belarus. We talked about orphans in prisons who are even more powerless than ordinary prisoners. An orphan child in prison is deprived of all state support. In addition, we examined the legislative norms on which the state relied when making decisions regarding orphans and assessed their insufficiency. And also, «Our House» has expressed demands regarding the situation of orphans in custody improvement. Another piece about orphans in prison came out in April this year – we told several stories of children who were left without parents and ended up in jail. After thorough analysis, we found out how the state itself pushes orphans to work as drug couriers.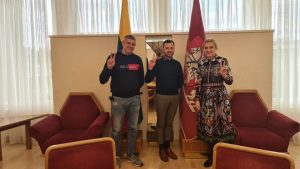 On April 16, the ICCI «Our House» head, Olga Karach, met with Tomas Vytautas Raskavičius, the Lithuanian parliamentary committee for human rights head. The topic of the conversation was the discussion of torture and modern slavery in places of detention in Belarus. Olga Karach spoke about the situation with torture and modern slavery in places of detention in Belarus, in particular about what is happening with children-328. After all, such children for many years become Lukashenka regime slaves. Olga Karach stressed that the regime organized business companies in prisons and began to «attract» teenagers convicted under Article 328 as free workers. The authorities need young hands who do not require medical attention to carry out this slave work. The profit from such companies is $ 100 million a year, and the prisoners get only 50 cents.
On June 26, Olga Karach took part in the online forum «New Belarus without torture», attended by Svetlana Tsikhanouskaya, Pavel Latushko, representative of the legal commission of the Belarusian Helsinki Committee Harry Pogonyailo, representative of the International Committee for the Investigation of Torture in Belarus Victoria Fedorova and Special Rapporteur of the UN Council on Rights person in Belarus Anais Marin. Olga Karach drew attention to the fact that the protection of children is declared as one of the priority directions of the social policy of Belarus, but at the same time, the state mocks them. Teenagers in the pre-trial detention centre are tortured and abused, cannot withstand the pressure and commit suicide. Olga Karach told the story of an eleventh grader detained on charges under Article 328 of the Criminal Code. In the pre-trial detention centre, the guy tried to commit suicide. The law enforcement officers tried to hide it. Now he is in PC-2, and there he has to stay for about four more years.
In July 2021, we monitored people sitting behind bars under Article 328 of the Criminal Code. We calculated what terms people convicted under article 328 get and said what the fate of the prisoners was. We analyzed how many orphans and people from disadvantaged families are among them. We also briefly described what violations were committed by the security forces concerning the prisoners and in which colonies they are serving their sentences.
In August, we drew attention to the penitential videos released by the Telegram channels of the security forces and state media. Videos with the participation of children convicted under Article 328 of the Criminal Code also appeared there. We drew attention to the fact that in the frame, children are being detained and handcuffed, that in the police, they are unaccompanied by adults. We also talked about how the state propaganda relates to the protesters accused earlier under Article 328, noting the rudeness and insults of journalists.
In September 2021, Olga Karach visited three European countries: the Czech Republic, Germany and Sweden. During a trip to the Czech Republic, the head of the ICCI «Our House» attended a meeting in the Foreign Affairs Committee of the Czech Senate. Olga Karach told Czech politicians about the problem of children imprisoned in Belarusian prisons under the well-known article 328, and that under this article, teenagers get long sentences. Their conditions of detention can be attributed to torture and mockery.
In October, we devoted a whole week to people convicted under Article 328. For seven days, we talked about what is happening in PC-22, the same one where prisoners are serving their sentences for drug-related offences. A separate article about how the Lukashenka regime mocks political prisoners with Article 328 appeared on the «Our House» website. Another text was devoted to the activists of the «Mothers-328» persecution. Finally, we talked about how prisoners under Article 328 are brought to death and made a long text about the children who end up at drug traffickers fault.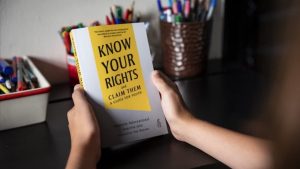 And we would like to recall one of the significant successes of our campaign this year. In early September, Amnesty International and Angelina Jolie published a book «Know and Claim Your Rights». It contains a separate chapter about Vladislav Sharkovsky, a Belarusian teenager convicted under Article 328 of the Criminal Code. «Our House» has been fighting for the rights of Vladislav and his release for several years, and we were happy that the world would learn about the violation of human rights in Belarus.
In the new year, we will continue to talk about what is happening with children-328 in Belarus. After all, we are not sure that any minor will be detained under this article, and any child will get tortured in handcuffs at the police station. The freedom of hundreds of children who are now serving sentences under Article 328 or awaiting a verdict depends on how quickly the Lukashenka regime falls.