On 28 July 2021, the Lukashenko regime decided to deal a blow to people with disabilities – a decree to eliminate the Wings of Angels team was issued. These people have been organizing inclusive races in Minsk for six years. The association's members – children and young people with disabilities – have taken part in many sporting events, including the Minsk Half Marathon, international races, hikes, outdoor training, and camps. However, now the socialization of children with disabilities is under threat…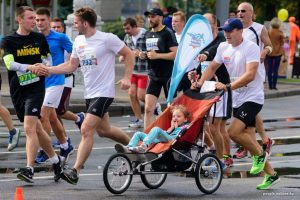 Wings of Angels is not the only association working for people with disabilities that has suffered since the election. Together with other NGOs, the illegitimate state decided to liquidate the Office for the Rights of Persons with Disabilities. The organization has been helping people with disabilities with legal assistance for 10 years, promoting changes in legislation. On February 3, 2021, the director of the organization Sergei Drozdovsky and lawyer Oleg Grablevsky were detained. They were charged under Article 209 of the Criminal Code (fraud). Prior to this, they were summoned to the Financial Investigation Department of the State Control Committee on 21 January, where they were tortured and humiliated for more than seven hours. Despite the absence of a director and a lawyer, the organization continued its work. For example, in May and June, trainings were held for the staff of several boarding houses. Representatives of the Office for the Rights of Persons with Disabilities organized outdoor activities for children in Minsk, Rechitsa, Cherven and Vasilishki orphanages.
Naturally, the humiliation of people with disabilities and the violation of their right to life, education, and hobbies did not start yesterday. It is difficult for disabled children to get into a regular school class, and young disabled people cannot find work – they often must work in few, low-paid organizations. For simple things like ramps, low kerbs, separate toilets, low-floor buses, people with disabilities must fight with local authorities, seek money from abroad, and apply for grants. Here we talked about how "Our House" helped people with disabilities defend their rights and made Belarus more convenient for them.
The saddest thing is that children with disabilities suffer because of the incompetence of the authorities. Their childhood is already overshadowed by numerous procedures, hospital stays, operations. The state, on the other hand, often deprives them of the necessary drugs and takes away precious time in the treatment of the disease. We are talking about children with spinal muscular atrophy. Until recently, sufferers of the disease died long and slowly from the gradual atrophy of all their muscles, because there was no treatment. Now, several drugs have been registered in the world that can slow down SMA or get rid of it forever.
– There are three drugs (Spinraza, Zolgensma, Risdiplam) that are aimed at patients with SMA. But Belarus does not buy these drugs, says Daria Tsarik, a representative of the Genome NGO. – Now Belarusian families who have a child with MSM are collecting money to pay for treatment abroad. And these are very large sums – from about 500 thousand euros to more than 2 million dollars. Families also emigrate to countries where SMA patients receive Spinraza free of charge. Parents are employed abroad, receive health insurance, and patients are prescribed medication.
The Ministry of Health is not looking at the results shown by children receiving Spinraza treatment. In the fall of 2019, then Health Minister Vladimir Karanik said:
– The decision of the specialists, unfortunately, was ambiguous. And the drug is controversial today – it does not guarantee a hundred per cent effect. And as far as I understand, the council, evaluating the benefits and harms, decided that after all, the benefit from the treatment of this drug would be minimal.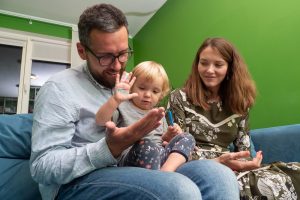 What is the solution offered by the Ministry of Health? Palliative care only. Three years ago, parents of Vera Zvanko, who will turn five this year, faced this. And for most of her life the girl lives in the USA – in Belarus she was offered a slow death. Having learned the diagnosis of their daughter, her parents Alexander and Maria began to study what SMA is and how to deal with it in Belarus, and when they did, they turned to the Ministry of Health.
– The answers to our questions had to be pulled out by pincers, through complaints and appeals. We even went as far as the prosecutor's office, – said Vera's mother. – We were told that there would be outpatient observation in the outpatient clinic in the place of residence, twice a year there would be an examination by a neurologist and an orthopedic doctor with an appointment for treatment and examinations. Special rehabilitation medical care will be available through the palliative program. But verbally, they said, "Pour water in the bathtub and do physical exercises with your child – that's all the rehabilitation". Yes, they assigned us a neurologist from the polyclinic, but she had little knowledge about SMA.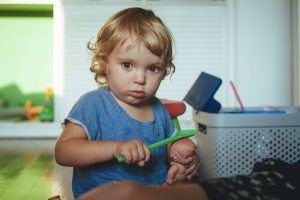 Having started rehabilitation in Belarus, the parents faced many violations. The instructor, to whom Vera was brought to the lesson, did not even know what SMA was, and asked the girl's parents about it. No special wheelchairs, walkers, or tutors for people with SMA are produced in Belarus. The devices for training and developing the lungs, necessary for Vera, were not provided to the family either – they promised in a few years. Drugs to stop the development of SMA were also discussed, but it was clarified that they do not exist in Belarus and are unlikely to appear, as the manufacturers are not interested in them. Parents began to look for an opportunity to cure the child abroad for budgetary money – this is possible if there is no appropriate treatment in the country. However, a special commission under the Ministry of Health refused.
"The results of the examination of patient Vera Zvanko, as well as the fact that there are no radical treatment methods for this disease abroad, show that the child can receive symptomatic treatment for spinal muscular atrophy in Belarus. It is considered inexpedient to refer a patient for treatment outside the republic," the letter said. The radical methods the Ministry of Health is talking about are Spinraza. Although it does not get rid of SMA forever, the child after the injections noticeably grows stronger, restores the lost skills, and even begins to walk.
Dmitry Laevsky, lawyer for the Zvanko family, commenting on the legality of the Ministry of Health's decision, clarified: The Ministry of Health is in violation of Article 6 of the Convention on the Rights of the Child, which obliges the state to ensure to the maximum extent possible the survival and healthy development of the child. And the decision of the commission violates Vera Zvanko's right to life, guaranteed by part 1 of article 24 of the Constitution of Belarus and part 1 of article 6 of the UN International Covenant on Civil and Political Rights.
To avoid wasting time, which in SMA has a big impact on the child's condition, Vera and her parents went to the USA. Here the girl received Spinraza and began her rehabilitation. Now Vera is already standing, walking, swimming in the pool. And on July 20, 2021, she attended a meeting between Sviatlana Tsikhanouskaya and the Belarusians of the United States.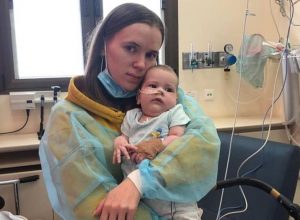 Four small Belarusians Sofia Zhagun, Milana Pshenko, Daria Shepetovskaya and Daniil Denisov were diagnosed in infancy with the most severe SMA, the first type – this gave them only two years of life. In this case, therapy should be started immediately after the first symptoms appear – weakness in the arms and legs, neck muscles. Otherwise, the child will stop not only moving, but also swallowing, smiling, and then breathing. The parents of the children applied to the Ministry of Health, but he was categorical: only palliative treatment, rehabilitation, examination by a neurologist. This is effectively a funeral for a child who, with the necessary therapy, can live and develop almost as well as his or her peers.
– Shortly after Dasha was born, I showed her to the neurologist at the district health center. The neurologist sent us to the Mother and Child Republican Scientific and Practical Center for a consultation with geneticists. We underwent an analysis and on a preliminary examination diagnosed type 1 SMA. This was later confirmed by a genetic test. Having learned about their daughter's illness, they turned to the Belarusian Ministry of Health, but received formal replies that the disease is not being treated, that Belarus is engaged in a program of expanded access to medicine, that the Zolgensma drug lottery is being held in the world, and there are no other options to get it for free. But we were not willing to wait, knowing that there was treatment available in other countries, even if it is supportive, – recalled Galina Shepetovskaya story of her daughter's illness.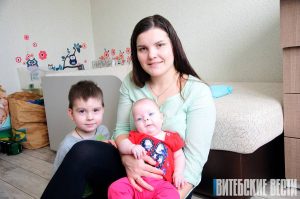 Dasha started treatment at eight months, when some of her skills had already been lost. For this, the family had to leave for Poland. Last autumn, the girl won the lottery for Zolgensma, a $2.2 million drug that can stop SMA permanently. By the way, the same story happened with Sofia Zhagun and Daniil Denisov – now the children are undergoing rehabilitation. Milana Pshenko had to pay for Zolgensma, which was helped by people who cared. Before that, her parents also had to emigrate. Milana started treatment with Spinraza in a clinic in Moscow, and last year she received the long-awaited Zolgensma shot and is recovering lost skills.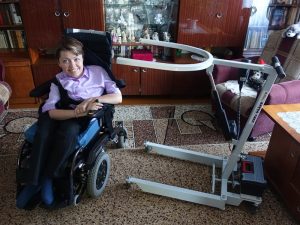 While children with SMA still have a chance to completely stop the disease, there is no drug like Zolgensma for adults. But they also exist – and the state does not see them at all. Meanwhile, people with type 2 SMA live into a mature age. Elena Korol is now 42 years old, and she spent almost all her life in a wheelchair, thinking that she had Werdnig-Hoffman's SMA. More than two years ago, a woman managed to go to the United States to visit her sister and literally miraculously received the first Spinraza therapy in her life, after which the disease stopped taking away her strength and health. Even though Elena may not recover or be able to get out of the wheelchair, she is guaranteed not to need a ventilator or gastrostomy in the future, as these are the end of life for patients with SMA.
Since Elena came to the USA on a visit, she cannot stay here. She wrote a letter to the Ministry of Health of Belarus with a request to receive Spinraza in Belarus, but they noted there: this is possible only if Elena buys the drug herself. Meanwhile, the cost of one injection of the drug is about 125 thousand dollars – and a woman needs his course for the rest of her life.
– If I leave the United States, then everything that I have achieved, everything that I have now, will simply collapse in Belarus. Even if a drug can be obtained, it is only for children. The hope that adults will be treated is practically zero, – complains Elena Korol.
In March 2020, Belarusians organized a petition so that Spinraza could be imported into Belarus at a reduced price of 75 thousand euros. We managed to collect 10 thousand signatures, and this was enough for the manufacturer's representatives to see their interest. They even put aside some ampoules of medication for the Belarusians on the Russian stock market – although they would have to buy them with the patients' own money instead of budget funds, but for families with a sick child this is already a big saving: no need to buy medication for 125 thousand euro, pay for the trip to another country, stay in the clinic and cover many other costs. However, while the Ministry of Health appointed a consultation to one of the young patients, while the consultation was being appointed, the ampoules were bought by Russian patients. And this meant that there was again a long wait and lost time ahead.
Finally, some scary figures. Over the past seven years, at least 17 SMA patients (including children) have died without receiving government assistance. This means that on the conscience of the illegitimate authorities – another 17 killed more. Even if one bought them all four Spinraza loading doses, priced at $125,000 each, it would cost $8.5 million. Is this a lot? For a common man, yes. But is it a lot for a country that in August 2020 spent more than $ 56 million in just one day to turn off the Internet?