Dmitry Uskhopov, a resident of Rechitsa, Homel region, died on the night of December 31 to January 1, two hours after he was taken to the police department by police officers and traffic police. According to preliminary data, the reason for the detention was drinking champagne in a public place. In the Central District Hospital, Dmitry was taken in a coma. Doctors tried to resuscitate him with adrenaline and heart massage, but despite this, at 01.20 on 01.01.2022, clinical death was recorded. Dmitry's relatives, who came for the body, got informed that an autopsy of the craniocerebral box and abdominal cavity was performed.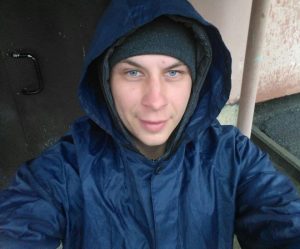 Dmitry got taken to the hospital with a half-naked torso and a jacket thrown on top. Hair, body, clothes were wet. In the photos on the Internet, swelling and bruising are visible on the wrists, hands and knees. There is an extensive purple spot on the lower back, similar to a bruise, from the middle part of the back through the shoulder blades and neck, and his body also has a dark purple colour. According to the forensic expert Nadezhda Gurmanchuk opinion, these formations on the body of Dmitry Uskhopov are cadaverous spots. There is a 1.5 cm wound mark in the left brow area.
The Investigative Committee reported that Dmitry got detained at 23.10 at a public transport stop on Sovetskaya Street with signs of severe alcohol intoxication. Because of the disobedience, police used physical force against him. The man was taken to the Rechitsa district police department, and then, as part of an administrative case, he was taken for a medical examination to a district hospital. At the entrance, the man became ill. The young man got urgently taken to the emergency room, where doctors carried out resuscitation measures. Despite the efforts of doctors, his death was pronounced at 1.20 am. According to preliminary conclusions of experts, it was not traumatic — no injuries of internal organs or bone fractures were on Dmitry's body. The expert analysis about alcohol, narcotics and other substances in the blood showed 4.3 ppm of alcohol. The circumstances of the incident are being investigated.
Relatives do not believe that Dmitry's death was not violent. They say that the deceased could have hit his head on a hard object, for example, a table. Wet clothes may indicate that they tried to revive him in the police department by pouring water on him, which, in turn, led to the loss of time and death. Dmitry's parents think that a timely call for an ambulance could save their son's life.
Dmitry Uskhopov became the first victim of law enforcement officers in 2022 and the eleventh since August 2020. We remember the names of Alexander Taraykovsky, Alexander Viktor, Artem Parukov, Gennady Shutov, Konstantin Shishmakov, Denis Kuznetsov, Roman Bondarenko, Vitold Ashurak, Dmitry Stakhovsky and Andrei Zeltser. Dmitry has a five-year-old daughter.
The Criminal Code of the Republic of Belarus provides for liability for abuse of official authority. In particular, Article 428 of the Criminal Code prescribes restriction of liberty for a term of three to five years with denial of the right to hold certain roles or engage in certain activities, or imprisonment for up to six years with deprivation of the right to hold specific positions or engage in certain activities.
Article 128 of the Criminal Code of the Republic of Belarus on crimes against the security of humanity, such as illegal detention, mass or systematic execution without trial, kidnapping followed by their disappearance, torture or acts of cruelty are punishable by imprisonment for a term of seven to twenty-five years, or life imprisonment, or the death penalty.
Note: torture means any act by which severe pain, physical or mental suffering is intentionally inflicted on any person to compel this person or a third person to act contrary to their will, including to obtain information or confessions from them, as well as for punishment or other purposes or for any reason when such pain or suffering is inflicted by a public official acting in an official capacity, using his official powers, or at his instigation, or with his knowledge or acquiescence.
This murder is another sad page in the history of our country. What makes it even sadder is the impunity that such murders used. Unfortunately, people whose duty is to protect and ensure the rule of law and order have turned into punishers. They thoughtlessly and cruelly treat the citizens of Belarus for the sake of ringing trinkets, written thanks and awards, competing with each other in meanness and desire to curry favour.
ICCI "Our House", along with the relatives of the murdered man, expresses its indignation at what happened. We insist that all those responsible should be brought to justice and be punished as they deserve.