The situation on the Ukrainian-Polish border continues to be tense. People stay on trains to Poland for more than 10 hours, and car queues exceed several dozen kilometres. More than 200,000 Ukrainians and foreigners in Ukraine have already left the country and have been able to leave for the European Union since the Russian aggression began. But thousands more families remain at the border, fleeing the war. Queues reach up to 25 kilometres, and people are forced to walk. In such circumstances, "Our House" cannot remain indifferent. And together with the DAR Initiative, they have been collecting and sending aid for three days!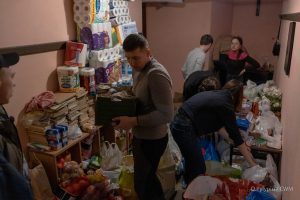 The "Pobacz" humanitarian aid warehouse in Poland continues collecting hygiene products, medicines, bed linen and food. Since the beginning of the aggression, the number of people in the chat room of the warehouse has quadrupled, and all of them are eager to offer help, be it by car, hands or money. Along with "Our House" activists, representatives of the DAR initiative are helping out at the warehouse and the border.
Right now, the depot is in particular need of medication for refugees. The first aid kit needs:
Painkillers
Broad-spectrum antibiotics
Bandages
Antiseptics
Medication for a sore throat
Cough medications
Insulin
Inhalers for asthmatics
Antiseptics
Tourniquets
We are also grateful for cardboard boxes, thermal underwear for men, disposable kitchenware, canned meat, baby food, matches, lighters, candles, tent poles, firewood. It's all available between 9 am and 9 pm every day at the warehouse at St. Alexander's Church in Warsaw, Plac Trzech Krzyży (see the sign on the door of the biblioteka parafialna).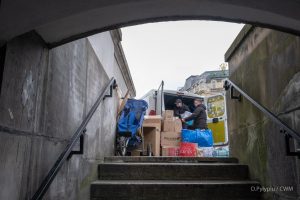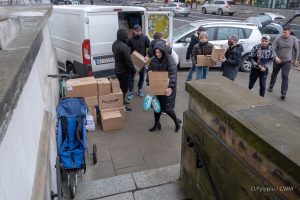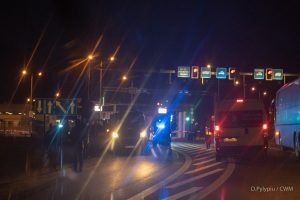 We are very pleased that the Russian aggression contributes to bringing together representatives of different initiatives. "Our House" has started cooperation with the Centre for International Cooperation in Poland. Its workers help in sorting humanitarian aid and delivering it to the border. "Our House" is grateful to the Centre for the essential help and the support given to all Belarusians and Ukrainians.
And, of course, a huge thank you to all the people who are with us in this severe hour, helping at the warehouse, bringing food and feeding our volunteers, helping with the cars, sorting humanitarian aid, spreading information about our warehouse. By all this, you are making a huge contribution to the lives of Ukrainian and Belarusian refugees! We all hope that peace will come as soon as possible!