Ukraine heroically continues to repel military attacks from Russia and Putin. Thousands of Ukrainians have joined the ranks of the territorial defence. More than 16,000 foreigners have come to defend the peaceful Ukrainian people. The tragedy has united hundreds of thousands of volunteers and concerned people who come out to acts of solidarity, collect money and humanitarian aid, buy food and medicine. Active work continues in "Our House".
For Belarusian and Ukrainian refugees, the "Our House" and "Dapamoga" initiative have achieved the possibility to work in Lithuania while waiting for refugee status. Now, when arriving in the country and applying for political asylum, one does not have to wait for a residence permit to get a job, as was the case before. It is a high achievement of "Our House" and "Dapamoga". It will facilitate the stay of many people who have left Ukraine because of the war and Belarus because of repression.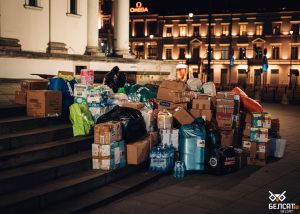 In addition, in recent days, we have been actively spreading the word about our humanitarian aid among Ukrainian artists with a large number of subscribers. Actresses Slava Krasowska, Anastasia Tsymbalaru and Anna Serdyuk have already supported us in social networks. Bloggers Martin Kram, MC Rybik and businessman Aleksandr Knyrovich have also campaigned to bring help to our warehouse. Thanks to this work, the number of participants in the "Pobacz" warehouse chat room is growing by leaps and bounds. And with them, the number of help and media interest grows. In the last few days, "Belsat" and TVP channels and PSZ correspondent visited the St. Alexander's Church in Warsaw. The material on the "Belsat" website can be read here. Kyiv Taras Shevchenko National University has already thanked the DAR initiative and "Our House" for their work.
Meanwhile, Olha Karach is actively engaged with the Council of the European Union. On March 2, she sent a letter to Josep Borrell in which she thanked the Council for the sanctions against Russia and Vladimir Putin. She also reminded that only Lukashenka's regime, not Belarus, was involved in the war against Ukraine. Olga Karach asked not to use the word "Belarus" referring to Lukashenka's regime. It leads to the enmity between representatives of other countries and Belarusians. Olga Karach emphasised that today the hearts of many Belarusians are close to Ukraine, that they are all against Putin and consider him the enemy of the whole civilised world. We invite all Belarusians and all not indifferent people to join us and send the same letters to: ca[email protected]. The text can be found at this link.
And our warehouses in Vilnius and Warsaw continue to ship aid for the front. On the night of March 3, "Our House" and DAR sent a new shipment of humanitarian aid to Ukraine. It includes bandages, blankets, medicines and food. Boxes with help continue to be collected in Lithuania, as the first refugees from Ukraine have already arrived here. We will be sure to keep you informed about the aid collection.
Our work will not end until the war in Ukraine is over. We thank everyone who helps us informationally, spreads information about our warehouse, brings humanitarian aid for Ukrainians. We consider that Putin is the enemy of Ukrainians and Belarusians, and we must do our best to save Europe from the Russian dictator and murderer. Now more than ever, we have more in common and one goal in common – and together, we will pursue it with confidence.