We would like to hereby present the chronicle of repressions against our organization, the International Centre for Civil Initiatives Our House.
Only during one year, 2021, the Belarusians regime's propaganda showed 147 (!!!) TV programmes presenting Our House in a negative way with the purpose to defame it in the eyes of Belarusians. Olga Karatch was the second frequently mentioned person on state television after Aliaksandr Lukashenka; and it is obvious, that they were saying exclusively good things about Aliaksandr Lukashenka, and exclusively bad things about Olga Karatch.
At the same time, a wave of negative articles was published in the state media. 3 (!!!)  socket puppet farms (bot farms) were working against Our House in 2021, spreading fakes and false information. False accounts were created at the name of Olga Karatch on social media, massively writing nasty things to people and insulting them with the purpose to discredit the head of the organization. We have been able to identify several of such false "Olgas".
Harassment, witch-hunt, arrests, incitement to suicide, torture, threats of murder and physical altercation and many other things, that you will read about in this Chronicle.
Repressions that we have encountered, were unprecedented ones; but in spite of all the pressure and attacks, Our House has managed not just to survive, but to grow stronger and more influential.
We would like to thank all our friends and partners that got under pressure together with us, but stayed strong and helped us to cope and not to break down.
1. On June 19, 2020 the human rights defender of Our House, Valery Shchukin, was fined in the amount of 20 basic units. 
He had participated in the legal electoral campaign meeting of Sviatlana Tsikhanouskaya. At the beginning of the trial Valery Shchukin noted to the court that there were a lot of blatant errors in the police report, starting from the complete discordance of the police description of the colour of the clothes he had been wearing to the place of his birth. Nevertheless, Valery Shchukin was sentenced to the arrest in the pre-trial detention facility N.1, where he had to sleep on a plank bed which was alive with cockroaches. 
Link: https://nash-dom.info/60822, https://nash-dom.info/61037 
2. On May 18, 2021 by the decision of the Central District Court of the city of Minsk, the Telegram channels «НАШ ДОМ» (OUR HOUSE), «НАШ ДОМ ТВ» (OUR HOUSE TV), as well as YouTube channel «НАШ ДОМ ТВ» (OUR HOUSE TV) were put on the list of prohibited materials. 
That decision was based on the materials of GUBOPiK of the Ministry of Internal Affairs.  They said: "In their videos and posts the authors (administrators) called for participation in unsanctioned mass gathering events, mass disorder, also for the reasons of political and ideological hatred, and to the seizer of power in the unconstitutional way and incitement of social hatred between the citizens of Belarus and representatives of the state bodies." 
Besides that, they found appeals to actions aimed at "destabilization of the work of the Central Election Commission, impeding legal activity of the state bodies, as well as abusive comments." 
GUBOPiK stated that videos form the feelings of resentment, disgust and hatred towards the representatives of the state bodies in the named communities, and also distribute inaccurate information arousing distrust to the law enforcement authorities.
A publication (a repost) of the information from the stated Internet resources is subject to an administrative liability and is punishable to the extent of arrest.
Today that list of prohibited materials includes the largest Telegram channels like "NEXTA", "Страна для Жизни" (Country for Life), "Беларусь головного мозга" (Belarus of the Brain), «Мая Краіна – Беларусь" (My Country – Belarus) – in total more than 400 Telegram channels.
Link: https://nash-dom.info/69529, https://reform.by/226855-eshhe-neskolko-resursov-priznali-jekstremistskimi
3. On May 23, 2021, Aleh Haidukevich, the Deputy Chairman of the Committee on International Affairs in the so-called National Assembly of Belarus, publicly announced that a number of special operations are being planned to be carried out on the territories of Lithuania and Poland against well-known opposition members, including their kidnapping and returning to Belarus in a trunk.  
As Aleh Haidukevich is an ex-head of Frunzensky District Office of Internal Affairs, who detained Olga Karatch under suspicion of committing a terrorist act at Oktiabrskaya metro station in Minsk on April 19, 2011, and as it was exactly due to the campaign of Our House "Beware, The Police!"  (https://nash-dom.info/news-campaign/beware) that he lost his job in the police, Our House is taking his threats personally, including the threat to kidnap human rights defenders of Our House in Lithuania. Currently Aleh Haidukevich is under European Union sanctions (based on my appeal), he is involved into kidnapping and torture of independent journalists, human rights defenders and activists (not only of Our House). 
Link: https://nash-dom.info/69564 
4. Since June, 2021 in the territory of Lithuania, at least five women human rights defenders of Our House and partner organizations, helping Belarusian refugees and relocants, have been picking up surveillance by unknown men.
On June 22, 2021 Our House made an official appeal to the Seimas of Lithuania on the issue of surveillance of human rights defenders. Members of the Lithuanian parliament offered to provide security bodyguards and other measures; however, they would paralyse and block our work helping refugees and relocants, so we all refused additional bodyguards. It is impossible, for example, to go to the border at night to pick up the refugees that escaped from Belarus, if you a have bodyguards and their working day is over. 
Link: https://nash-dom.info/69976 
5. On July 14, 2021, a human rights defender of Our House, Yuliya Harachka, was detained. 
She was accused of "organization and preparation of actions that seriously harm social stability, or active participation in them." Yuliya has worked with Our House for many years: she supported Belarusians in trials, at court hearings, worked with children-328, helped compile petitions to the state bodies. Through Yuliya a lot of horrible stories have passed, told by the repressed people who had been maimed, tortured and humiliated by the enforcers. After the detention, Yuliya spent 7 days in the detention facility in Okrestina lane. There were no mattresses, no bed sheets, she was not given any hygiene essentials. She had pains in her backbone, but was refused medical help. During her detention she was forced to participate in shooting videos where she had to confess to crimes she had not committed. On February 4, 2022 the public prosecutor's office sent Yuliya's case to the court.
Link: https://prisoners.spring96.org/ru/person/julija-haraczka 
6. On July 20, 2021, at 7.30 a.m. the KGB came to search the apartment of Our House's human rights defender, Alena Hrybanava. 
All her electronic devices (PC, laptop) were seized, and Alena was taken to the KGB for interrogation that lasted 5 hours. During the interrogation KGB operatives threatened Alena with a long-term imprisonment, but in the end, they let her go under a written pledge not to leave country:
Link: https://6tv.by/psiholog-iz-mogileva-kotoruju-upomjanulo-v-svoem-rolike-bt-pokinula-belarus/
7. On August 2, 2021, a TV programme on the propaganda channel "Eto Drugoye" ("This Is Different") was shown on the central Belarusian BT1 channel, and the human rights activists of Our House were demonstrated there.
That TV programme is on YouTube: https://m.youtube.com/watch?v=87DXjY0r20g&feature=youtu.be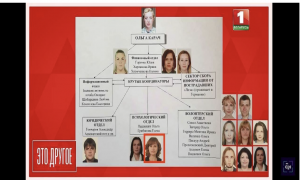 Before that the KGB had detained Anastasiya Sokal and Iryna Gerrero Mengana. 
8. On August 30, 2021, the retired Colonel, Oleg Alkaev, investigating the murder of the Belarusian journalist Pavel Sheremet in Kyiv, Ukraine, a member of the council of Our House, was invited to the police and informed there that his murder was being prepared by Belarusian special services on the territory of Germany. 
Currently Oleg Alkaev is under additional protection.  Oleg Alkaev is one of those who is helping the four German lawyers with the case presented to the Federal Prosecutor of Germany about recognition Aliaksandr Lukashenka as an international terrorist. The case in question was presented on the base of cases of torture gathered by human rights defenders of Our House. It was thanks to Oleg Alkaev, that an audio recording of the conversation between the KGB Chairman Zajtsev with several enforcers got to the public spotlight; in that conversation Zajtsev is discussing the murder of Pavel Sheremet by explosion (the way it was actually carried out) and is saying that Lukashenka appropriates 1.5 million dollars for that. The letter is provided below. 
9. On September 3, 2021, the head of the International Centre for civil initiatives Our House, Olga Karatch, was included into the list of "persons, involved into terrorist activity".
That accusation was brought against her by the KGB of Belarus. She was accused of "aiding and abetting in the preparation of an act of terrorism by a group of persons by means of prior conspiracy" and of "an act of terrorism against a state or public figure". Besides Olga Karatch, the list of pseudo-terrorists includes Sviatlana Tsikhanouskaya (a democratic candidate for presidency during the elections 2020), Pavel Latushka (Chairman of the Coordination Council), Stsiapan Putsila (co-founder of the Telegram channel NEXTA), Aliaksandra Herasimenia (Head of the Belarusian Sport Solidarity Foundation, Olympic champion).
Link: https://www.dw.com/ru/v-belarusi-aktivistka-karach-vkljuchena-v-spisok-terroristov/a-59072368 
10. On September 5, 2021, the under-secretary of state of the Security Council, Uladzimir Archakau, admitted that a number of special operations aimed at physical liquidation of opposition leaders abroad, also by means of imitation of car accidents, were being prepared. 
Archakou announced that first of all it concerned those leaders who were working on sanctions imposed on the Belarusian regime. Taking into consideration that Our House is actively working on the sanctions issue, and the fact that our active core is travelling mostly by cars, we take this threat personally as well.
The quote of Archakau from the article: "That is why those "runaways", begging for sanctions, they do not understand what irretrievable hole they are trying to put Belarus in. And it is clear that the West will let them go down the drain sooner or later, it is already letting them go down the drain, and they will perish in the car accidents, but these cold cases will remain on Belarus." 
Link: https://telegraf.by/politika/pogibnut-v-svoih-avtokatastrofah-zamgossekretarya-sovbeza-belarusi-rasskazal-chto-zhdet-belorusskih-oppozicionerov/ 
11. September, 9, 2021 Pervomajsky District Court of the city of Vitebsk sentenced Alexander Vaseikin to two and a half years of restraint of liberty without sending him to an open-type correctional facility (the so-called "home chemistry") for a comment condemning the actions of the police officer Volnich under a post of Olga Karatch on "Odnoklassniki" social network. 
Link: https://spring96.org/ru/news/104929
12. On September 9, 2021, it became known that a police officer from Hantsevichi, a Senior Lieutenant of the Traffic Police Patrol under the State Motor Vehicle Inspectorate, Ihar Volnich, demanded to launch a criminal case against Olga Karatch.
Links: https://vitebskspring.org/news/sud/item/4161-na-starontsy-volgi-karach, https://spring96.org/ru/news/104929  
13. October 4, 2021 Pervomajsky District Court of the city of Vitebsk sentenced Aliaksandr Shmatau to two years of restraint of liberty without sending him to an open-type correctional facility (the so-called "home chemistry") for a comment condemning the actions of the police officer Volnich under a post of Olga Karatch on "Odnoklassniki" social network.
14, October 4, 2021 Pervomajsky District Court of the city of Vitebsk sentenced Mikalai Berdnikau to two years of restricted freedom in an open penitentiary ("chemistry") for a one-word comment "Chmo" ("Jerk") under the picture of the police officer Volnich. At the court Mr. Berdnikau unexpectedly changed his point of view and said that his comment was addressed not to the police officer, but to Olga Karatch. 
Link: https://vitebskspring.org/news/sud/item/4202-za-karotkae-slova-chmo
15. On November 6, 2021, one of Lukashenka's propagandists, Ilya Begun, a person on the list of people unwanted on the territory of Lithuania, attacked Olga Karatch for her support of Berlin's LGBT and feminist march in his Telegram channel.
During a whole week Olga Karatch received multiple threats and was harassed by the Belarusian regime for her support of LGBT and feminism. The regime's propaganda even called Olga Karatch a "devil".
"Has anyone noticed that Karatch was present at the Berlin march of gays and lesbians?
People from Vilnius write that she is a co-organizer. It looks like dear Olga is luring the Swedes again, as when she took a trans as her assistant, although she herself is one hack of Puritan and cannot stand all those deviations. And classical consciousness of a white-red-white adherer is extremely homophobic, the Bratva in Vilnius is puzzled."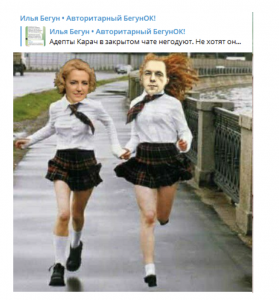 Link: https://t.me/begunini_blog
16. On November 6, 2021 one more main propagandist of Lukashenka, Hryhory Azaronak, on his page in VKontakte announced in a form of a poem that Olga Karatch was a devil in comparison with the angel Azaronak. 
Link: https://vk.com/ymsiloviki?w=wall-70361716_155676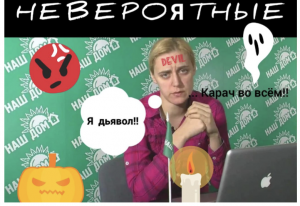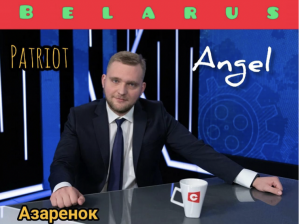 ☆•••••••••••• "Let's compare Azaronak and Karatch" ••••••••••☆
《Love of Azaronak in the Countryhas indeed become higher!!
Without the Tsikhanovskys it became more beautiful and quieter!!
Karatch wanted to create slavery in the Country…
Sell it to the West, get it converted to LGBT, , cancel all the riches

Time heals, now few remember, Olga,  about you!! 
But we will tell the children how you wanted to ruin the country!!
Let them know how you was set on fire together with Europe!!

Azaronak helps the migrants, nourishes them with power, nourishes them with love!!
While Karatch in Lithuania is as kilo – throwing promises but with pain!!
Azaronak reached the end, the top of the planet!!
Many thanks to Him – he is a real man!!
He will not get cut by anything – not even by zmaharian "wrinkles"!!
People, family, love is at the first place for him – like everything is going according to the list!!
Karatch said while reading: "- No, I will not come close to you on my nerves!!
She is bending, while the Country with Russia has become taller and stronger!!
Ola, do you want everything to end as soon as possible!?
Then come to here to us – your Siarhei misses you…
People are ready to hit their forehead against a wall, but we'll stay with Her!!

It's unbelievable how beautifully we all rised/!!
Oath after oath, we/ did not stay alone!!
Karatch is covered with stains – nobody is saving her!!
Sorry, everybody understands, that it's not your time coming!!》
(c) Viktoriya Vafina
17. On November 19, 2021, it became known that people that had been helped by Our House, were being summoned to the Investigation Committee of Belarus. 
Information about summons to the Investigation Committee are arriving from Mogilev, Brest and Pruzhany. People, helped by Our House are summoned to the IC as witnesses for a conversation with an investigator, they are interrogated about the help they received and about people, who helped them, and are asked if they know other people who have received help in the same way. Several dozens of people have sent us communications about summons to the Investigation Committee. 
Link: https://belsat.eu/ru/news/18-11-2021-lyudej-kotorym-pomogal-nash-dom-vyzyvayut-v-sledstvennyj-komitet-v-chem-delo/ 
18. On December 3, 2021, access to the resources of the organization Our House was limited by the decision of the Prosecutor General of Belarus. 
The General Procuracy found out that Internet resource during a monitoring. According to the materials of the state bodies, "the social and political situation in Belarus and its leadership has been aggressively and groundlessly criticized on it.
Inaccurate or deliberately distorted information has systematically been published on the organization's web site. In addition, the conclusions of the author in the majority of the publications were worded so as to purposefully increase the tension and confrontation in the society, to create an atmosphere of non-acceptance of any actions of the law enforcement officers, and to incite hatred in relation to that social group.
Also, there was published the material, directed at incitement of national hatred or discord against the citizens and the leadership of Russia. In separate articles the mutual relations of Belarus and Russia were discredited."
Link: https://www.belta.by/incident/view/genprokuratura-ogranichila-dostup-k-resursu-nash-dom-473054-2021 
19. On January 5, 2022, in Mogilev, the political prisoner Dzmitry Dudoit committed suicide in Mogilev. 
He got to prison for an unflattering comment about a police operative under Olga Karatch's post on "Odnoklassniki" social media, and probably could not bear the torture imposed on him by the employees of the correctional facility.
Links:  https://prisoners.spring96.org/ru/person/dzmitryi-dudoic, https://www.currenttime.tv/a/pokonchil-s-soboy-dmitriy-dudoyt/31641085.html 
20. On January 14, 2022, the web-site of Our House was recognized as "extremist" in Belarus.
The corresponding decision was made by the Zheleznodorozhny District Court of the city of Vitebsk for criticizing the state bodies of Belarus.  The web resource appeared on the republican list of extremist materials, published on the web-site of the Ministry of Information of Belarus.