Belarusians continue to experience discrimination in different spheres. They are discriminated against at work, school and services. Previously, we have already told how Belarusians are considered enemies even abroad because of Lukashenko. It concerns the people repressed by the regime, forced to leave the country and, of course, do not support the policy of the illegitimate authorities. Today we are going to continue talking about discrimination against Belarusians abroad.
Deprivation of work
Many of our people lost their jobs abroad because of the war in Ukraine. Employers from Europe do not want to deal with citizens of the country from whose territory Ukrainians are being killed. The employers have no time to figure out who supports the regime and who is repressed. For the last three years, Belarusians have been invited for seasonal work in the agriculture of Great Britain under the Concordia program. It was a good way to earn money, learn languages and know the culture. But after the beginning of the war in Ukraine, Belarusians were no longer recruited. They are deprived of the chance to leave Belarus legally with the possibility of self-sufficiency. All previous farm placements are cancelled. The same has been done to the Russians.

Alla, from Belarus, said that she worked for half a year in the confectionery factory "Wedel", where she got the job through a job search agency, and then she applied for a residence permit in Poland. But then she received a letter that "Wedel" no longer wanted to cooperate with citizens of Belarus and Russia and asked to be sympathetic to such a decision. "Poles in the factory treated me well… How can they do this to us? I didn't leave Belarus out of good life," the woman writes.
Another Belarusian, Alena, said that she was also refused to work in Poland. Before that, everything was fine. There was an agreement with the employer. However, as soon as Elena sent the last page of her passport, she heard in response that the firm did not want to hire people from Belarus. "The firm is Polish, communicated in Polish with a Pole. I called one more address after the rejection – they did not refuse me. But it was a shame," Jelena shared on social networks.
Belarusian Ekaterina said she tried to find a job in Wroclaw through the employment agency. However, the agency's employee told the girl that Belarusians and Russians were not applying for jobs after "you, your government, have attacked the territory of Ukraine.
Denial of banking services

Belarusian refugees encounter this problem very often. After February 24, Polish and Georgian banks started massively refusing to open accounts and provide other financial services to Belarusians. "Our House" has learned that ING bank refused a loan to at least one Belarusan because of citizenship. The Belarusian firm has a good turnover and an open account at the bank. After this case, the Belarusan decided to close the account.
Repressed regime journalist Evgenia Dolgaya owned an account at Bank Polski and faced problems. "Three times, they blocked the account in the Polish bank," Evgenia wrote on her Facebook. – I collected all the documents, which testify to the repression, printed my articles and went to the bank. I was indignant in Belarusian and said, "what the f*ck is this all about". Everybody understood everything even without an interpreter, the account got unblocked, and they asked for forgiveness".

In Belarus, Ksenia was refused to open an account at PKO Polish Bank, explained this by the fact that her passport was not verified and there were bans on opening accounts for citizens of Belarus. However, the problem was solved: Ksenia came to another bank office, showed her work contract, and the account was eventually opened for her. This bank refused to open an account for more than 50 Belarusians.
Millenium Bank also refuses to open an account. At least one Belarusian received refusals in three branches in Warsaw in one day without a residence permit. Another Belarusian with a residence permit was also refused because of citizenship.
In Cracow, a Belarusian woman was refused to open an account in several banks at once. The bank Pekao refused as soon as she presented her passport. The PKO bank enquired the head office, after which the Belarusian woman heard the refusal as well. In Santander, she was told that she could open an account but needed a residence permit or an employment contract.
In Sopot, in the branch of the PKO bank, the Belarusian was also refused. The staff explained that the reason was the bank's security system. But then the employees specified: if a Belarusan makes a PESEL, he can come again, and then they will open an account for him.
Refusal to rent flats
"Our House" has also become aware of such cases. In Wroclaw, there was a well-known case when several Belarusan guys heard refuse in a flat because they were Belarusians. The same thing happened to Belarusians in Warsaw, Krakow, and Lublin.
For example, in Warsaw, a guy from Belarus couldn't rent a flat even with the help of an agent. Polish landlords refused when they heard where the potential tenant came from. Belarusians, who have been living in Poland for a long time, recommended speaking in Belarusian (if a person does not know Polish) – in such cases, you have more chance to please a landlord.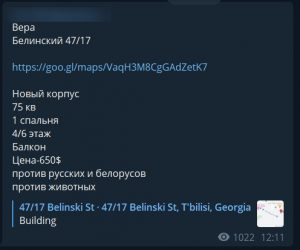 It happens in other countries too. Zerkalo.io published the story of Ilya, a Belarusian who arrived in Tbilisi after the war in Ukraine began. At the airport, he was called an occupant because he spoke Russian, and then there was the problem of renting accommodation. "It happened that a landlord would not rent to Belarusians or Russians on principle. Agents immediately ask about nationality. They promise to call back after checking with the landlord. But if you call back yourself, they just ignore you. Someone wrote: "Go back to your country, make rallies and fight the regime. You are not welcome here". Some agents, picking up the phone, answered in Russian, but when they heard Russian, they switched to English".
A few more Belarusians complained that they couldn't find flats in Georgia even though Airbnb application – landlords don't want to see people from Belarus. "On Airbnb, everyone answers something along the lines of 'you're not welcome here,' and refuses to give a flat – more than 12 people have already been refused," one Belarusian counts.
Passport and other property damage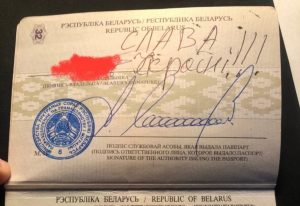 It is not uncommon for the passports of Belarusians who fled Ukraine after the war to be tampered with by border guards. For Belarusians crossing the border from Ukraine to Poland, border guards may write "Slava Ukraini" or "Putin h**lo" on their passports. Such a passport becomes invalid, which is especially deplorable for the repressed, who cannot return to Belarus and replace the document.
Because of the war in Ukraine, Belarusians may also encounter damage to cars, often not even their own, but those of workers. There is a tense atmosphere in the truck parks in Europe right now. Belarusian truckers are wary of their Ukrainian colleagues. People are scratched and beaten up, they refuse to fill up their cars, and it's not always Ukrainian drivers, even the Poles do it. There are cases of people shooting at trucks with Belarusian and Russian number plates with pneumatic guns in car parks in Poland and Germany. And in the car parks, they don't hesitate to remove number plates, paint over them, cut tents and scratch cars.
"I live in Gdansk", says a Belarusian man who drives a car with Belarusian number plates. – There is a white-red-white sticker and a Ukrainian flag on the number plate. One day he had two problems on the road. One driver simply cut me off, and the second one braked a few times and then got out of the car and told me to change the plates or go "to Lukashenko". Both incidents were recorded on the video-recording device".
We understand the pain of war-traumatized Ukrainians and immeasurably respect our neighbours who have been fighting Putin's troops for more than 40 days. But we wish that the world would not forget about the Belarusians, living under occupation for months. Detentions, tortures, repression and threats by the regime have not stopped because of the war but went unnoticed.