Slender like a Kolinsky sable brush in her dainty hand, Nastia from Ukraine is chirping non-stop creating a relaxed and joyful atmosphere around her. Nastia is making coffee. Everybody is joking, laughing, choosing cups – the paint used to create a masterpiece should brew.
The most pleasant thing is that the creative process can be accompanied by drinking a strong aromatic coffee. Nastia is talking about folk art drawing, suggests the participants to choose a plot. She remembers English artists making beautiful postcards out of coffee drops. She speaks about coffee toys, the process of making cloth, treatment with vinegar and coffee…
A nice hat of coffee color on the head of the master looks like a symbolic pennant of the today's class. Invigorating scent lingers over the heads of people who came on a Sunday noon to the office of Our House in Kareiviu St., 11, at yet another creative art masterclass. Nastia, the master conducting the class, returned from Kyiv a month ago and is working at Art Academy preparing to enter the Master's program. She is speaking about her memories of Klaipeda and Neringa, how she caught sunlight there in autumn, how Yoko Ono visited Kaunas, what great cultural projects she could see there.
During the cozy coffee break, the youngest of the participants, Martin, is drawing a sketch of his future masterpiece. Joking and laughing, everybody is trying to guess what is appearing out of the spreading drops and blots: on one sheet the initially intended Milky Way turns into an ancient map of Europe, on another sheet owls are frowning, on the third one a fairy-tale planet is appearing… Nastia demonstrates a deer head with tender flowers on his horns emerging out of a huge blot…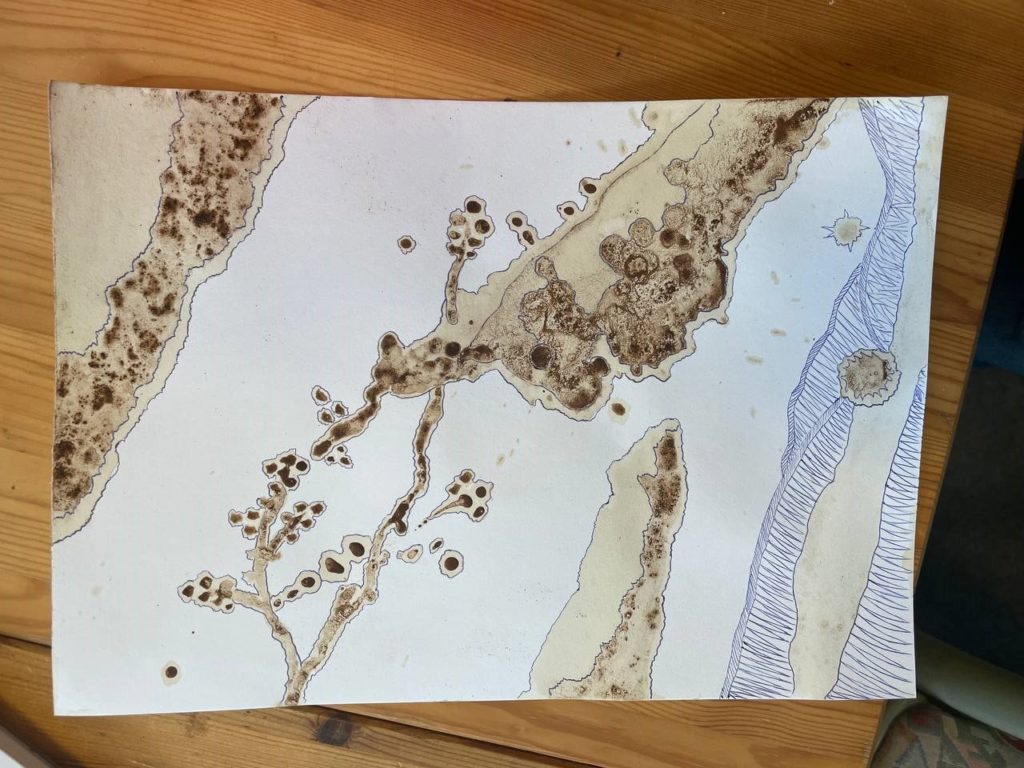 Little by little, the conversation turns to present-day realities. Nastia remembers how artists that escaped from Belarus lived at her place for several months, how they hoped that Tsikhanouskaya was not a joker, but a real oppositionist to the dictator regime, but alas… Belarusian women remember that when they arrived to Vilnius two years ago they were confident that soon they would return home, but… Memories flow, painful and sweet, warm and hopeful. An aching desire to bring back the usual world in which dreams, home, plans for the years to come existed.
The cheerful mood of the artist Nastia little by little is transferred to everybody bent over coffee drawings… It was not long ago when she taught at Kyiv schools, worked in a gallery, was engaged in wood and glass carving. Two days before the war started, she had concluded a contract with Logos school network. Nevertheless, the war cancelled it. The network of workshops of wood carving with master classes for children and adults, were closed. The artists have spread over the world. However, they have not lost each other and keep in touch: they teach classes in different countries and dream to gather together in Kyiv one day.
Finishing touches, the paintings are completed, the coffee is drunk. Yet, nobody wants to leave, and we are making more coffee…