Another surprise was thrown by the state to the relatives of prisoners serving their sentences in penal colonies in Belarus. Those who came to see their loved ones were very unpleasantly surprised, because the prices of long-term visits to institutions had increased significantly. The administration of some colonies argues: renovations have been made in the visiting rooms – everything is for visitors. And it adds that in 2020, the Ministry of Internal Affairs issued Decree No. 143 "On the procedure for calculation, reimbursement of funds credited to the national budget in 2020", according to which one has to pay, including for the convicted person who has guests.
So, in penal colony No. 22 "Wolf holes", where prisoners serving sentences under Article 328 are kept, the price of a visit per day is 13.46 rubles, children under 8 years old are free. You can see in the worksheet from the colony what the calculation of this amount was based on. And find quite interesting figures, for example, the salary of the service personnel in the colony, which is more than 2,300 rubles.
Let's count: let's say a family of three is going on a date. Four (three family members and a prisoner) multiply by 13.46 rubles, then multiply by 3 (days) – we get 161.52 rubles. For many, this amount is unaffordable. Relatives say that 600-700 rubles are spent on the "care" package for the convict. The road from Minsk by car costs 130 rubles (if you fill the car with diesel fuel, and if gasoline is even more expensive). The total is almost 1,000 rubles, while the average salary in the regions of Belarus barely reaches half of this amount (according to official statistics).
Relatives of inmates who visited the colony said that the prison had indeed undergone some refurbishment, a glass and plastic door had been installed and linoleum had been laid. Each meeting room has a small TV, chairs, dishes (two pots, plates, mugs, decanter, glasses, forks, spoons). Bed linen is heavily washed, there is a small rug in the middle of the room. In the kitchen, ovens were replaced, microwaves replaced, extractor hoods installed and refrigerators replaced. New plumbing has appeared in the toilet rooms, there is a children's room. At the same time, there are old electric kettles, one of which does not work, and in the yard there is only a flimsy children's slide with a swing.
Relatives are unhappy, because hospitals, kindergartens and other budgetary organizations do not take money from visitors for repair costs. In addition, the prisoner does not even spend three days with his relatives: they bring him in in the middle of the day and take him away at 9am, arguing that the prison staff are finishing their shift. Many families come without small children, but it turns out that they have to pay for both the nursery and the playground.
The mother of one of the prisoners – a citizen of Russia – said that the conditions for visits in the colonies of neighboring countries vary greatly:
– We came to visit, and I saw the rooms for which we paid. Dark, with low ceilings, blue blankets… Then the son was extradited to Russia. We also go to visit him, there is no payment for the rooms at all. And they call these rooms hotel rooms, each has a TV, an alarm clock, a wall clock, bedside rugs, blankets, blinds, books. If in penal colony No 22 we had our bags searched only in the evening and then a bunch of other "procedures", in Russia we come to the room before lunch, hand over our phones and valuables, and they do the search in the room. It's so convenient: you immediately put everything in its place and even change your shoes into slippers. Also, they do not charge the convicted person for filing complaints with the courts of any instance in Russia, as they have no money.
By the way, in PC-17 in Shklov, they also made repairs and put new furniture in the rooms. In this colony, there is a children's room, two kitchens, new dishes, televisions in every room, in the kitchens and in the nursery. At the same time, the cost of visit is 3 rubles per day per person.
In PC-15 in Mogilev, the meeting rooms were also renovated, each room now has a TV, and in most of the rooms there is a microwave oven and a refrigerator. There is also a fairly modern canteen where you can not only sit and relax while waiting your turn, but also buy goods for package to a prisoner. This canteen is also where the staff dine.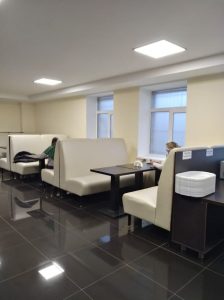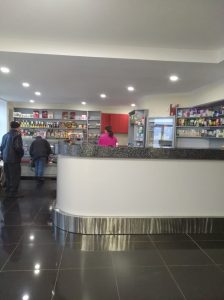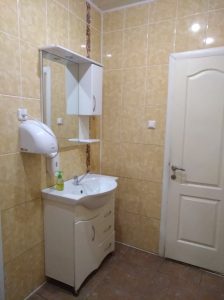 In PC-2 in Bobruisk, rooms are located on two floors of the building. Each meeting room has two bunk beds, and relatives are provided with colored, beautiful and clean bedding. The kitchens have electric kettles, microwave ovens, refrigerators, stoves, and all the necessary appliances.Prices for a date are as follows: 3.08 rubles per person, for children under seven years old – free. For a three-day visit, a family of two needs to pay 21.50 rubles, a family of three – 32.50 rubles. This is more than five times less than for the same meeting in PC-22.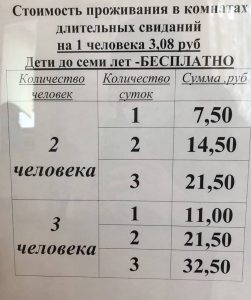 However, relatives of those serving sentences in prison 4 in Gomel (a women's colony) complain about the conditions for visiting prisoners. For example, the toilet is outside, there are no doors, and there are holes in the floor instead of toilets. There's a smell to it, too.
So, why did the prices go up for the visit in the colonies? Resolution No. 143 of the Ministry of Internal Affairs approves two instructions: on the procedure for calculation, reimbursement of expenses by convicts for their detention in open prisons and on the procedure for calculation, reimbursement of expenses by convicts, citizens in medical and labour preventive centres or by citizens who have come to visit them for accommodation in long-term visitation rooms. According to these instructions, convicts must reimburse the cost of food in the correctional facility and the cost of utilities. The money "is to be credited to the republican budget in order to compensate for the corresponding expenses."
According to the same decree, the cost of living in a long-term meeting room includes the salaries of service personnel, laundry, detergents, major repairs, and utilities. The money is paid either by relatives who have come to visit, or by convicts (in this case, the funds are debited from the personal account). Well, the question as to why a visit costs 3 roubles in some colonies and more than 13 roubles in others remains open…