In correctional colonies people, according to the idea, should be corrected. But in fact, this does not happen because they are trying to correct them with humiliation and slave labour. Once in the colony, they stop feeling like people and do what they are ordered to do, and if they don't, they get a day in a penal isolation cell. Especially, often these facts began to emerge with the appearance of thousands of political prisoners. Today we will tell you how much they receive in prison and what jobs they are involved in.
Who do prisoners work, and how much do they earn?
According to the Department of Correction of Punishment, prisoners produce clothing, furniture, construction and household goods, sports equipment and components for industry. Men are traditionally forced to work in woodworking, construction goods, women sew uniforms for security forces, medical gowns, overalls for workers, bed and table linen and knit washcloths. At each colony, there is an enterprise where prisoners are employed. Their products can be purchased on the Department of Correction of Punishment website. The products are sold at market prices, but the prisoners receive barely a hundredth of their cost.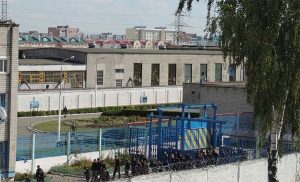 One of the prisoners, who served a year in PC No. 2 in Bobruisk, spent a whole year getting a cord out of rubber scraps. According to the norms, it was necessary to hand over a kilogram of material per day. But it turned out rarely: the rubber brought for processing was so stuck and dry that it turned out to get barely 200 grams. For such work, the man received 10-15 kopecks a month. Although if the work is qualified, many prisoners are interested in good development — the length of service at the enterprise in the colony is counted in the workbook.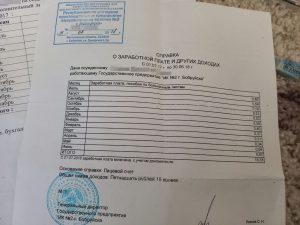 Another prisoner from the same colony worked in the production of construction gloves. The shift lasted about 7 hours a day. But the machines regularly broke down, and they had to be repaired for a long time. Therefore, there was no production rate. From June 2017 to July 2018), the man was transferred to rubber processing. Shifts were four or four and a half hours, and the production rate was 500 grams of rubber. During this year, he earned 15,18 rubles. The largest salary is only 2 rubles a month.
In correctional colony No. 3, salaries are just as bad as in other correctional institutions. The prisoners worked in woodworking, but there was no work for 90% of the prisoners here. Sometimes they produced pallets, for which they 10-20 kopecks. The salary ranged from 1 to 2 rubles. During the year, one of the prisoners earned only 14.18 rubles.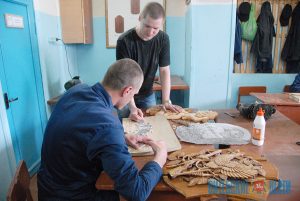 In correctional colony No. 22 for those convicted of drug-related crimes, production was divided into three sections: a sewing workshop, woodworking and disassembly of ferrous and non-ferrous metal. Most of the prisoners worked on metal disassembly. The norm per shift was three kilos of copper and six of lead. For non-compliance, they were punished by deprivation of parcels, visits, or even by a penal isolation cell. They paid only 70 kopecks a month. Those who worked in woodworking were a little luckier with a salary — they received 10 rubles a month. During the shift, people were not even allowed to eat. They could have only a smoke break. If someone found food, it was immediately taken away and thrown away, and then a report was written.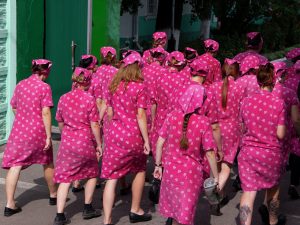 The situation with salaries in women's colonies is no better. Sofia ironed products at a sewing company in Gomel PC No. 4. She worked for a little more than a month and received 38 kopecks. The amount for workwear has already been deducted from her salary. If the output was not equal to 100 per cent, the prisoners did not count the length of service. Sometimes it was impossible to fulfil the norm because there was no material or the previous shift worked too slowly. The production standards did not correspond to the orders at the enterprise — there was simply no need to produce so many things. The work of one prisoner was painted for several people, so everyone received equally little.
How are things with the labour of political prisoners?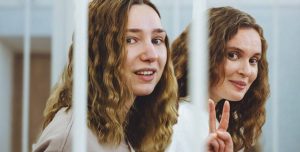 Journalist Daria Chultsova, detained on November 15, 2020, for conducting a stream from the action in memory of Roman Bondarenko, works as a local worker in colony No. 4. Her colleague Ekaterina Andreeva, detained on the same day, works as a seamstress's assistant in a small team that sews uniform elements to various state structures and enterprises. Their working week lasts six days a week for eight hours, sometimes they have to go on shift on Sunday. After working hours, girls are loaded with other work like sorting potatoes or cleaning indoors. Daria Chultsova's salary was only 41 rubles, 30 were deducted for food and accommodation — and 11 rubles remained on the prisoner's account. Ekaterina Andreeva was credited with only 7.5 rubles in September 2021.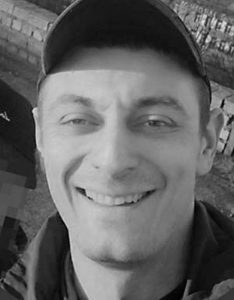 Political prisoner Viktor Panteleev, who is serving his sentence in PC-15 in Mogilev, was given a salary with toilet paper, the cost of which is 50 kopecks. Viktor is serving a sentence for participating in mass riots in Brest. In the colony, Victor works in the garment industry. Despite the symbolic salary, the man is satisfied with the working conditions. Convicts work in a warm room, and there is no need to "ruin their backs", there is an opportunity to wash in the shower twice a day.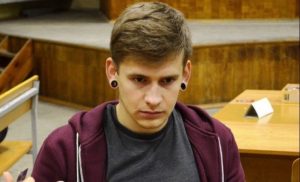 Political prisoner Danila Chemodanov, convicted in the "case of the round dance in Brest", served his sentence in PC-2 in Bobruisk. In total, he worked for two months, going on three-hour shifts four times a week. Danila Suitcases said that he extracted rubber with his hands, tearing pressed car tires with pliers. The production rate was a kilogram of rubber per shift. If you don't have it, you get a reprimand the first and second time. But if this repeats three times, prisoners are punished with a punishment cell. For such work, Danila was charged only 40 kopecks a month.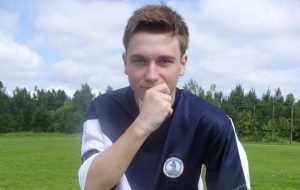 Football coach Artem Khvashchevsky was sentenced to a year in prison for participating in protests in August 2020. He went to the correctional colony No. 1 in Novopolotsk to serve his sentence. Here he got a job as a cleaner and worked in a team of 15 people. Many of them did not work because there was not enough work for everyone. They paid for such work with two rubles a month, and the maximum earnings in the colony was an amount of 30-40 rubles. It was received by employees of the food department who worked seven days a week, seven days a week.
Ex-presidential candidate Viktor Babariko is serving his sentence in the same colony. At first, he worked as a stoker and received 1.60 rubles a month. Later, he managed to get a job in a bakery. Here his salary has grown to 50 rubles. It is uncomfortable to work in the bakery where the former banker works: the temperature is constantly high here, and there is practically no ventilation.
We continue to monitor the situation with slave labour and salaries in the Belarusian colonies. Unfortunately, the more information we receive, the more confident we can say that both adults and children are subjected to slave labour in correctional institutions. But we hope that there will be no more such practices as slave labour in Belarus without Lukashenka.