In every city in Europe, there are animal shelters. Here, old, sick, abandoned dogs, cats, birds and even horses end up. Here they are provided with all the conditions for living and finding a home: they are treated, fed, trained, combed and walked. It is done by employees and volunteers, of whom there are often a lot. The state and private benefactors help with the purchase of feed and medicines. The situation in Belarus is different. We do not have animal shelters, and out of thousands of homeless dogs and cats, volunteers save only a tiny part. And after the 2020 elections, their life became more complicated. The number of abandoned animals increased, there are catastrophically few people who want to take an animal.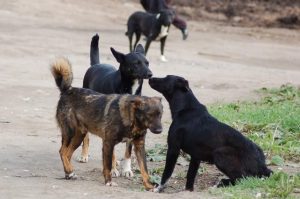 Belarusian homeless animals populate landfills, yards and villages for years. If they do not interfere with anyone, the trapping enterprises will not touch them. For the communal services to come and catch a dog or cat that does not have an owner, you need an application from the village council or housing and utility services. Only then it will be possible to call the trapping service, which will immobilize the animal and take it to a temporary detention centre. There is a risk that the animal may not reach him and die on the road. Hunters, as a rule, do not stand on ceremony with him. But if he gets there, he will be examined by a veterinarian and quarantined for five days. Then they start looking for old or new owners. It is also done only by volunteers. They can pull someone out of the facility or run ads on social networks. If the animal is feral, ill, a kitten or a puppy, a death sentence is signed in the temporary detention centre. Wild and sick people are not treated and adapted to life here, and kittens and puppies die from cold, lack of treatment and infections.
There are cases of cruelty and violence to animals in such places. In 2013, the owner's dog of the chow-chow breed was killed in "City's Fauna". She just suffocated from lack of air. In the same year, employees of the temporary detention centre beat Alma's dog with iron sticks, which her mistress was looking for at that moment. The animal also died. And in 2016, an employee of the trapping service of the Minsk enterprise "City's Fauna" was found guilty of cruelty to an animal and fined. During the stray dogs' capture in one of the Minsk yards, a man killed a dog under the care of locals. The animal convulsed for several minutes.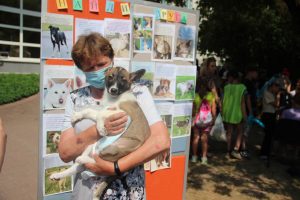 The only state shelter in the country where dogs and cats are not euthanized is "Vitebsk DOBRIK". Here they live until they are taken to a new home or until their life ends. But there are a lot of animals, more than 300. The district authorities allocate funds for employees' salaries, but they are symbolic. Therefore, the shelter mainly employs those who love animals. As we have already written, in August of this year, the "Vitebsk DOBRIK" institution, associated with an animal shelter, was liquidated among more than two hundred non-governmental organizations.
What should those animals who were unlucky enough to be born in the Vitebsk region do? In other cities (not in all, but only in large ones) there are public associations for the protection of animals. Animal rights activists agree with the temporary detention centre that volunteers will feed and walk dogs, organize a schedule for visiting the animal detention centre and coordinate it with the housing and communal services. After volunteers' requests, local authorities negotiate with farms about meat for dogs and cats. For example, Pinsk and Stolin volunteers agreed on such a thing. There, temporary detention facilities for animals have practically turned into full-fledged shelters on a volunteer basis, where animals get advertised in social networks in the same way, where they get help with food, bedding, and attention.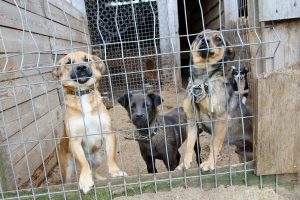 In Bobruisk, the shelter was built by private individuals with the city authorities. In 2020, it employed several employees who got salaries from private organizations. Although at first, it was not easy for this shelter either: they cooked porridge at home, fed the dogs with food waste from the colony, did not have a hut to hide from snow or rain. But then they built a summer kitchen, a hospital. In schools, colleges and colleges of the city, aid collections are held, money is transferred to the settlement account, medicines and animal feed are brought. Despite the help, the shelter still has a hard time because the amount of animals becomes bigger.
Private shelters and mini-shelters are appearing in many cities (including Minsk). People buy plots in villages and on the outskirts of cities, build buildings here with rooms for dogs and cats and a kitchen to cook food. Animals are not constantly with people here – volunteers come for morning and evening shifts and spend the night only in emergency cases. Some caring people organize shelters in their yards. One is in the Rechitsa district. A resident, Svetlana, created it. She says that it's not the animals that live with her, but she lives with them. In the evening, she cooks them food – about 40 litres for 200 dogs and cats – treats and nurses. Neighbours, rescuers of the Ministry of Emergency Situations, to whom dogs, cats and even birds fall by the will of fate, turn to her for veterinary help. Svetlana also gets along with the city authorities – she is the only one who deals with animals here. She does not hide her address – why, if both utilities and ordinary residents already know about her. Although, many private shelters do not follow her example and do not publish the address on social networks, because otherwise they will be pelted with homeless puppies and kittens. And no one has to rely on the support of the state – only on the help of caring people.
But not everywhere local authorities are ready to meet animal volunteers halfway, cooperate at least somewhat with private shelters and enthusiasts and generally take care of homeless animals. Then the defenders save the quadrupeds on their own, look for overexposure or send them to other cities with more opportunities to improve their lives. There are cases when animal rights activists from Gorki, Pinsk and Novogrudok transferred cats and dogs to Minsk, where they receive high-quality medical care and find owners. For example, the cat Chizhik, thrown out in the courtyard of the district centre, in Minsk received a residence permit, treatment for numerous diseases and found a new family.
If there are no contacts with Minsk volunteers and overexposures in the district centre, we can only hope for ourselves and residents, who will be pitied by a photo of a downed dog or a sick cat on social networks. But now, conducting fees can become a crime. The institution "Wings of Angels" helped children with illnesses, promoted their socialization and held fundraisers for charity. Now the "Wings of Angels" have been eliminated. The same thing happened with the association "BelNetwork Anti-AIDS". She held charity concerts with fundraising in favour of HIV-infected people – and their illegitimate state did not regret it. The day when it will also be illegal to collect stray animals for the needs of social networks is not far off. But so far, this method helps to feed and operate hundreds of dogs and cats from all over Belarus.
Animal rights activists combine helping animals with their work. That is, a person, after an 8-hour working day (on average), also goes to a construction site, to the private sector or to garages to catch a dog or a cat, then takes an animal to a veterinary clinic and looks for an overexposure. By the way, catching a wild animal is not an easy task. Sometimes you have to hunt down and guard a timid kitten for hours in the rain, snow or the scorching sun. And for fishing, tools are required: a special trap cage that will close when the animal enters there, a net, and sometimes (if there are no other options at all) a gun that shoots darts with sleeping pills. You may have to make several attempts to help a stray animal. And also to get food and medicine for him. Pet stores in cities often help with this.
– In the city pet stores, with which we signed a contract for the gratuitous lease of part of the premises, there are our baskets, – Tamara Sinyavskaya, the chairman of the Chance for Life NGO from Molodechno, shared her experience. – People put food, medicines, and ask the sellers what is more necessary. They also respond to requests for financial assistance in social networks. Although they often call and ask to pick up puppies or kittens found somewhere. We often hear reproaches from the category of "it would be better to help children."
Perhaps, people's attitude is one of the most significant problems that animal rights activists from different cities (both the capital and district centres) talk about. People are looking for their phones in groups on social networks and, not understanding the situation, they ask to pick up a domestic cat, "because she's tired and shits," or a dog who gave birth to puppies. Explanations that there are no state shelters in Belarus and all animals are eaten and treated at the expense of private money mean nothing to such would-be owners. The animal rights activist, who refused to help, is threatened by the police and denunciations. Now it has become doubly dangerous because anyone can become an extremist for a white-red-white flag found during a house search, for subscribing to opposition groups and Telegram channels, for reposting, for signing in support of an opposition candidate last year. And animal rights activists are in a desperate situation. After all, if they go to jail, dozens of dogs and cats will be left without custody. They are afraid to refuse, so they choose to remain free, even with another animal that needs to be fed, cared and attached. Against this background, accusations of a lack of help for children or people in need seem ridiculous and harmless.
Many animal rights activists get tired and burn out from such a rhythm of life. Not everyone can stand sleepless nights near sick pets (and there are not one, not two, but dozens of them). Not everyone tolerates rudeness and people's claims, lack of help and indifference. And most importantly, not everyone has the strength to fight the repressive machine of the illegitimate government, which is ready to destroy anyone for far-fetched reasons. Animal rights activists are no exception. "I sympathize with all the animal protection volunteers. I am so tired that I want to bark myself. The life of an animal rights activist depends on how many he pitied and hung on himself, well, or hung on him. If you find an animal— it's your burden and your problem. If no one can help — you figure it out yourself. You make the decision yourself that you pull the animal alone, and you clearly understand that no one owes anyone anything," Borisov volunteer Ekaterina Verkhovodko says.
"The situation with the homeless is difficult. Firstly, there are few volunteers, and little information reaches people who could help. Only individual volunteers are engaged in homeless animals, who make repostings with requests for overexposure of animals," animal rights activist Anastasia Zhavrid describes the situation.
Without animal volunteers, animals in Belarus will have a hard time. We are almost sure that the number of homeless animals, already huge, will grow exponentially, and eventually, an irreparable tragedy will happen. We thank all the volunteers who continue to engage in this task, despite the threats of an illegitimate dictator. And we hope that in democratic Belarus, the life of dogs, cats and volunteers will become easier and more colourful.