Belarusian children do not have much choice for summer holidays: European countries are closed, the flight time to Turkey and Egypt has increased, and the price has risen. So, children's camps inside the country stay, as the illegitimate regime focused on patriotic education this year. More than 60 military-patriotic camps have been opened in Belarus.
Sergey Kornev, head of the ideological work department of the Defense Ministry, said the camps are led by military units. At the same time, the military does not forget that they work with children and create various games for them: an obstacle course, joint volleyball and football tournaments. Veterans of the Armed Forces and soldiers-internationalists are invited to visit the children.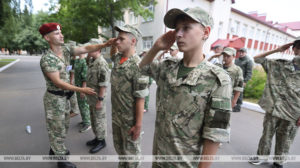 The 72nd united training centre near Borisov is one of the first to open its doors to children. Children are shown weapons and equipment, allowed to disassemble and assemble submachine guns, and go through an obstacle course for the military. Schoolchildren on simulators master shooting from a tank. A museum of military glory is a must-see for pupils. While in the training centre, only the day camp is opened, but soon, it is planned that the children will stay in the military round-the-clock.
On the first day of summer, the sports and patriotic camp opened on the base of the 38th Brest separate Guards Airborne Assault Brigade. Until June 17, pupils of schools in Brest and Brest region visited it. They spent one day in the barracks conditions of paratroopers. Children will get acquainted with standard firearms and military equipment, learn about the parachute device and learn how to provide first aid in the field.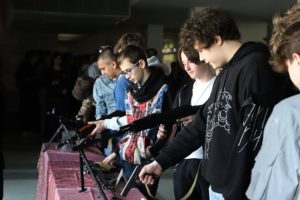 On the same day, a military-patriotic camp for teenagers called "On Guard" opened at the Interior Ministry Academy. Schoolchildren from 14 to 17 years old are waiting for the programme of cadets of the university. They will receive skills in military training, physical training, shooting and will visit training grounds. Classes, training and cultural and educational events will take place here. Schoolchildren will learn self-defence techniques and undergo psychological training. They will also visit police museums and talk to cadets and university professors.
Sports-patriotic shift at the camp at 103rd Vitebsk separate guards airborne brigade has started on June 6. Schoolchildren will visit the brigade's battle glory room, the barracks and see how soldiers live. Here you can also assemble and disassemble submachine guns, get acquainted with arms and military equipment, train on an airborne complex and imagine yourself as a paratrooper. Watching military-patriotic films is an obligatory item on the programme.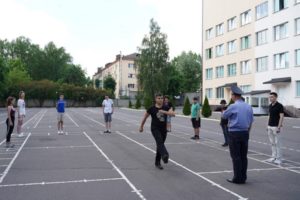 A military-patriotic camp, "Patriot", set up in Mahiliou at School No. 23, opened on June 9 in cooperation with the Mahiliou Institute of the Ministry of the Interior. Patriotic events will take place for 25 teenagers under 15 years old. For children it is planned to visit several military units and a lot of attention will be paid to sports training. And in Pashkovo village, Mahiliou district, a military-patriotic camp, "Future Soldier", has been opened at the military unit No. 72471.
In Urechye, Liuban district, schoolchildren will rest in the military camp "Patriot", headed by the military unit #42715. "Here, you can truly feel like a defender of the Motherland," reads the camp's advertisement. The programme promises themed evenings, competitions and quizzes, competitions in applied military sports, and other educational activities. Teenagers from 14 to 18 years old are invited to the camp.
A camp for teenagers from Minsk is based on the 120th separate mechanized brigade. Children get acquainted with the military everyday life, climb into the cabs of military vehicles, shoot guns, disassemble and assemble submachine guns, try on body armour, practice throwing grenades and shouting "Ready for combat"! Fighters of this brigade were seen at the protests in Minsk in 2020. On September 6, 2020, during a march of many thousands, the military guarded Oktyabrskaya Square, which was fenced in with barbed wire.
The course for patriotic education of young people was taken after the 2020 elections when Lukashenko started talking about how Belarusians were not bringing up their children that way. In August 2021, Igor Marzalyuk, chairman of the Standing Committee on Education, Culture and Science of the House of Representatives of the National Assembly, said it was vital to restore the system of continuous military-patriotic education of youth in Belarus. Military-patriotic education teachers and religious elective courses appeared in schools. Belarusian children are taught to defend the Motherland (or, to be more exact, Lukashenka) in military-patriotic clubs at schools and institutions of additional education. Schoolchildren are taught not only to love their country but also to hate the people of Europe and Ukraine. Children are taught that Belarus and Russia must be united. 
By the way, the same thing happens in Russian schools. There are also military-patriotic camps here, and schoolchildren listen to aggressive narratives about Western European countries, Ukraine and the USA from a young age. As a result of this patriotic education, thousands of young people have grown up who have unquestioningly obeyed the order to enter Ukraine and started killing Ukrainians simply because they are not Russian. 
Our children are already being trained to be murderers, kill all dissidents and hate other nations. Instead of enjoying their childhood, they are shooting machine guns and fighting (albeit in a fake way). Lukashenka wants to make them soldiers, ready to fire bullets at his command. But we hope that parents will teach little Belarusians kindness, empathy and peacefulness and will not allow children to commit crimes against people.