The level of violence from the Lukashenko structures is escalating
Horrifying story took place on October 14 in Minsk.
The owner of a flower shop, Maxim Khoroshin, who gave flowers to girls at protest actions, was dragged out of the car by unknown people in balaclavas, beaten, taken to the police station, tortured there for several more hours before someone called the ambulance. The police department told Maxim's wife that her husband was detained in the framework of the administrative process under Article 23.34 of the Administrative Code (Violation of the procedure for organizing or holding mass events).
Doctors noted the following injuries: edema of internal organs, edema of the scrotum, suspicion of a fracture in the lower leg, numerous abrasions.
The official commentary of the Ministry of Internal Affairs: "He was taken to the Pervomaisk District Department of Internal Affairs of the city of Minsk for committing an administrative offense. In terms of causing bodily harm, the information has not been verified."
Now Maxim is in a hospital in a serious condition.
The absurdity of the reasons why citizens are detained, convicted and fined indicates a complete default of the legal system.
On October 2, Teacher's Day, the creator of the cycling movement in Gomel Svetlana Korol and her friends decided to lay flowers at the monument to Irina Paskevich, who once did a lot to spread education in Belarus.
But 10 minutes after the meeting of the women, two riot policemen arrived.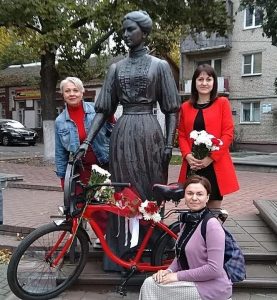 In the report, a riot police officer wrote: "They laid flowers without the permission of the city executive committee at the monument to Suskevich in political clothes"
The security forces are making every effort to get a picture of the radicalization of the protest
Yesterday, a video appeared on the official website of the Ministry of Internal Affairs with the comment: "At about five o'clock in the morning, unknown persons threw three Molotov cocktails into the courtyard of the Sovetskiy District Department of Internal Affairs."
With a simple analysis of the video, it becomes obvious that the bottles were thrown from the territory of the police department, and not from the side of the street. That is, the creation of a fake story for the media takes place.
Statements through official channels of the Ministry of Internal Affairs sound like direct threats to civilians
Yesterday a new video was shown on national television in which two riot policemen wearing balaclavas with a changed voice said that no one would scare them and that they would not leave the streets.