The problem of violence against women is significant: one out of three women and girls in the world experiences physical or sexual violence at least once in their lives, most often by an intimate partner. This year, the world celebrates the International Day for the Elimination of Violence against Women for the 21st time. This day was declared by the decision of the UN General Assembly on December 17, 1999. "Our House" cannot remain indifferent to this problem – moreover, Belarusians experience violence not only from their husbands but also from the security forces and authorities.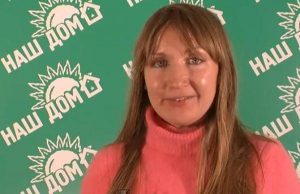 In 2013, an activist of "Our House", Natalia Leonova, suffered from the police actions in Minsk. Frunzensky district police department employees handcuffed her during the distribution of the newspaper "Our House". After her detention, she spent about two hours in the police, where they tried to intimidate her, threatened her with the KGB jail, prison and lice. However, in the end, Natalia left the police even without drawing up a protocol. She was only required to write an explanatory note. We told about the repressions against Natalia on our website.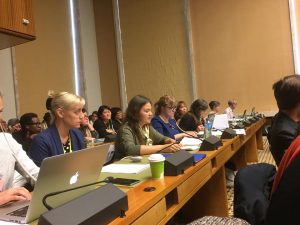 On October 24, 2016, Olga Karach spoke at the 65th session of the UN Committee on the Elimination of Discrimination against Women. In her speech, Olga Karach focused attention, among other things, on violence against politically and socially active women. She identified four forms of violence: beatings and sexual violence, forced deprivation of parental rights, forced placement in a mental hospital and driving to suicide. "Violence is used by such representatives of state structures like the police, officials, civil servants and other persons in power. Violence can change forms from physical to psychological. All these actions are aimed at subjugating, disciplining or punishing women who speak out in defence of the rights of their own and their children, or are socially and politically active," Olga Karach said.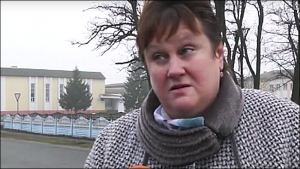 In the winter of 2018, we supported the deputy from the Kalinkovichi district, Rosa Strelchenko. The woman advocated that the school in her native agro-town of Kaplichi continue its work and even developed a project to restore it. However, her plans did not come to fruition – Rosa began getting threatened, and later she was frightened by a mental hospital. The activist suffers from problems with the hip joint, survived the operation, but she continued to be intimidated. By the way, the same thing happened to the candidate for deputy from Novogrudok, Tatiana Voitovich. When she began dealing with the constituency problems, police officers forcibly took her to a mental hospital. "Our House" supported an active woman at court sessions.
In 2018, we supported two Bobruisk activists in court: Galina Smirnova and Taisiya Kabanchuk. Both got arrested by the police on the eve of the celebration of the BPR centenary. Police drew up protocols for women for crossing the road in the wrong place. The security forces also said that Galina and Taisiya "did not obey the legitimate demands of officials." Both women received fines for crossing the roadway. Galina Smirnova was detained near her entrance late in the evening on March 23, 2018. After that, she spent three days in a temporary detention centre. Taisiya Kabanchuk, according to the police, resisted during the arrest, but according to the woman, she became a victim of violence, as she told the court. The police threatened her with the use of physical force and grabbed her by the arms.
In February 2020, we released the monitoring of repression against women in Belarus for 2019. We have recorded data on at least 55 women who faced repression in Belarus. Among them were those who had experienced physical violence. Natalia Starovoit, whose son got sentenced under Article 328, was forced by the penal facility administration to undress and take off her underwear. The journalist Olga Chaichits was called a foreign agent and hinted that she was taking bribes. Marfa Rabkova was registered on a dating site and indicated her phone number in the questionnaire, after which she began to receive calls and messages with intimate offers. During the observation of the parliamentary elections, activist Anna Tolchikova, threatened by the police, was kicked out of the station.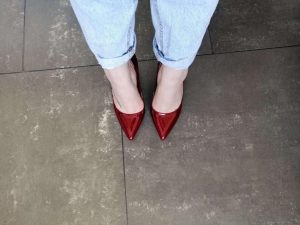 On June 4, 2020, "Our House" joined the world action against violence against women and girls. On this day, ladies from all over the world wear red shoes in protest against gender inequality and violence. Red shoes is a call for solidarity with women and girls who have faced violence. And in general, the red colour means the spilt blood of women.
In June 2020, we released monitoring of women harassment during the election campaign.
In it, we drew attention to the fact that women went through beatings. For example, police officers broke the finger of activist Tamara Vengura. The protest candidate Veronika Mishchenko was physically injured. Irina Tsyp, an activist of the "Narodnaya Gramada" party, was abducted and spent in the police for about eight hours. The mother of anarchist, Anastasia Yemelyanova, got threatened. A large number of activists were fined and imprisoned.
On September 30, 2020, Olga Karach became a participant in the webinar "Helping women and girls facing gender-based violence during the crisis: security and psychological stability of those who help women – challenges, pressures and strategies". The discussion, organized by the British organization VOICE, discussed assistance issues to women and girls in Russia, Ukraine, Kyrgyzstan and the UK. The participants talked about working with gender-based violence, the safety of helping teams and their psychological health during COVID-19.
In June 2021, an article about the repressions and types of violence faced by women political prisoners appeared on our website. We told the stories of several Belarusian women who ended up in prison after the election campaign. Anastasia Nikitina and Olga Zolotar were beaten by the police in prison. Anastasia Zakharevich and Anastasia Bulybenko didn't get medical care in custody. Polina Sharendo-Panasyuk appeared at a psychiatric hospital for examination. Elena Movshuk's children were taken away from her. And these, unfortunately, are far from the rarest cases.
In September 2021, we talked about how the most basic rights of women are violated in Belarus. Belarusians cannot choose a job – after all, more than 180 professions are prohibited for them. Some universities and specialities are not available to Belarusians. Women go through sophisticated torture, rape in prison. We talked about physical violence against mothers with many children Olga Zolotar and Elena Movshuk, journalist Natalia Radina, and threats to the health of human rights activist Marfa Rabkova. In the same material, we said about repression against elderly women.
As part of the week dedicated to women, in September of this year, we talked about the struggle of "Our House" with gender inequality. Let us recall some aspects in which this struggle is going on. We talked about women's leadership in the public sphere and what is needed to form the image of a woman in the public sphere. We talked about our work in eliminating discrimination against women, namely the report on women's rights to the UN Committee. "Our House" participated in round tables on discrimination against women in 2017 and 2019.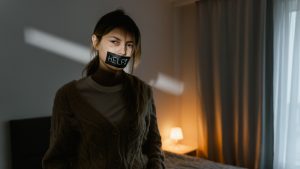 We dedicated last week in "Our House" to the fight against domestic violence. We have tried to cover this topic. We told how the state helps (or rather hinders) victims of domestic violence in Belarus and what terms rapists receive. We raised the issue of the liquidation of organizations that fought against domestic violence. We remembered the terrible cases when domestic tyrants killed their wives and children. Finally, we shared our results in the fight against domestic violence.
And, of course, we constantly talk about repressions against mothers. "Our House" has been dealing with the issues of Belarusians, whose minor children are taken away by the state for their civic position, for non-payment of utility bills, for lack of repairs in the house and much more. We cover these cases as part of our campaign "Non-Children Play". In April 2021, we told about our struggle with Decree No. 18, which allows the removal of children. In September 2021, we released an overview of how we helped Belarusians bring their children home. Here we have listed the cases of Anastasia Navoeva from Bobruisk, Tatiana Chervyakova from Vitebsk, Tatiana Zhigar from Gantsevichi district, Irana Sheralieva from Pinsk district and others. In November 2021, as part of the week dedicated to the Belarusian settlement, we talked about how guardianship authorities take children away from families in villages.
Belarusian women are strong and able to endure a lot. But lately, their tears have been shed too often. And the reason is not in them at all but in the state. Instead of caring and protecting, the dictator puts them in danger. The illegitimate government perceives Belarusians only as an incubator – therefore, repressions against women, especially activists, are cruel. But we hope that it will stop very soon.