It is not accepted to spread about this topic in society. Only when something terrible happens, for example, a murder, the media will risk writing about it. But "Our House" did not let us forget about what was happening behind the closed doors of apartments and houses. Over the years, we have repeatedly talked about domestic violence. Today we will remember how this topic was covered on the website of our organization.
In 2012, our website published an article about how the media cover violence against women. We said a few words about the term "victim behaviour", which does not allow people to understand the violence phenomenon deeply. In the material, we published data that 4 out of 5 Belarusian women aged 18 to 60 years face psychological violence in the family. One in four women does through physical violence, 22.4% experience economic and 13.1% — sexual violence by their husband or permanent partner.
In this article, we quoted from an interview with psychologist and family relations specialist Natalia Udovenko. Natalia explained that violence usually begins with criticism that a woman who has been in abusive relationships will find the aggressor again in 90% of cases: "For the victim, the situation of violence is like a roller coaster: it constantly gives adrenaline. The cycle of violence, consisting of three phases (tension build-up, violence, honeymoon), is full of adrenaline, and people organize it again. And so the victim leaves the tyrant, but the adrenaline habit — physiological – remains."
At the same time, "Our House" did not agree with Natalia Udovenko on some points. For example, the psychologist considered that the responsibility for the violence inflicted lies primarily with the victim (woman) since it is her characteristic of "victim behaviour". That is, she provokes the rapist to aggression. As a counterargument, we quoted Andrei Kolpakov, a specialist of the ANO "Men of the 21st Century": "A husband can experience psychological stress, which reaches the limit and ends with physical assault. After that, he feels relieved, there comes a discharge. Then there is a period of repentance. Reconciliation is taking place. A man gets hooked on violence, like a drug, and can no longer do without it. After all, he might even kill his wife."
"Violence is the choice and responsibility of those who abuse women. Violence can happen in everyone's family, regardless of social status, religion, nationality, education, age, gender, physical abilities or sexual orientation. But women should have the right to live in safety and use the services of available services and courts," it is emphasized at the end of the text.
In 2013, Olga Karach commented for the website "Comrade.online" on the information published by the Ministry of Internal Affairs on the results of research on family problems in Belarus. According to the police department, about 1 million women in Belarus have been subjected to domestic violence. Only 11-13% of families solve emerging problems without quarrels and scandals. Over 80% of the women had been subjected to violence from their husbands or partner. Domestic violence is latent – people do not want to make public what is happening in their apartments. Olga Karach noted that the problem of domestic violence in Belarus now is unsolvable, and this is due to the way our police work today:
"There is a specific problem in Belarus that is not typical for our European neighbours. It is a problem of police violence against women, and it is systemic. It is impossible to fight against domestic violence when policemen beat women, mock detainees, falsify protocols of administrative detentions. Before the police deal with domestic violence issues, I would strongly advise you to put things in order in your department to exclude police violence against women, including physical and threats of sexual violence."
In October 2013, data from a resource for helping victims of domestic violence appeared on our website. Almost 11 thousand people over the year visited this resource. And 79 people used the feedback form. Most of them had a direct or indirect relationship to the problem of domestic violence, and 68 of them were women, which once again shows that it is ladies who most often suffer at the hands of despots, 50% of those who applied faced psychological violence, a third — with physical violence. The site visitors were interested in news on the problem of domestic violence, information about organizations that help victims, the legislative framework in the field of prevention of domestic violence.
In May 2014, we drew attention to the room for people affected by domestic violence opening in Minsk. This room can accommodate up to seven people. Olga Lukashkova, project manager for the prevention of domestic violence and gender equality of the United Nations Population Fund, noted: "The opening of a crisis room in the capital will help improve the system of assistance to victims of domestic violence. For our part, we will provide methodological support and continue training specialists so that victims of domestic violence can receive effective help on time and cope with a difficult situation." It is noteworthy that the meeting was attended by the Deputy Minister of Labor and Social Protection, who stressed the need for all specialists who will help establish a system of assistance to victims of violence.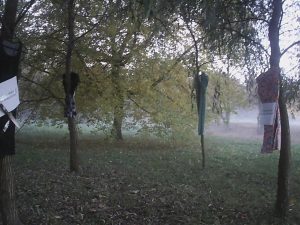 In February 2019, "Our House" released monitoring of harassment and repression for art performances in 2018. It included a performance by activists of the anarchist movement against domestic violence. On October 8, 2018, they held a rally against domestic violence in Gorky Park in the capital. They hung items of women's clothing in bloodstains on the trees. They attached sheets of paper to their dresses and underpants with inscriptions: "The police will not protect you!", "Every third Belarusian is subjected to physical violence" and others. The performance was connected with the fact that Lukashenka criticized the draft law on domestic violence. Violence and repression did not follow in this case.
Nine days later, they held a second action against domestic violence. In the action description, the activists explained: "According to statistics, every 3rd girl was subjected to physical violence and every 6th to sexual violence. Every fourth female suicide is a consequence of domestic violence. Strong and independent individuals are a direct threat to any totalitarian system, and the state is trying, by all means, to remove them or retrain them into victims. At the same time, solving the consequences of the problem, and not the problem itself." With this performance, the activists chose the victim of violence: to hope that the oppressor will be afraid of prison and not commit violence or take protection into his own hands. The idea was based on the assumption that violence could be prevented by any means. In the park, anarchists hung clothes, оbjects used during domestic violence and attached posters with text. "If I don't stand up for myself, then who will stand up for me? Deputies, police and others are only too good at intimidating and exploiting the people, and only a fool can expect help from them. Neither the law nor garbage – no one will save you if a knife is presented to your throat, only you can do it yourself! The one who can protect himself is safe," the authors of the flash mob stressed.
In September 2021, we held a "women's" week, during which we wrote about the problems faced by the fairer sex in our country. In the article about the rights of Belarusians, we told what discrimination girls and women face in educational institutions, at work, in politics. We touched upon the problem of removing children from families, especially if cases of domestic violence have happened in them. As soon as a woman says about domestic violence, the information transfers to the Department of Education. They assign the family the status of being in a socially dangerous situation and can take the child away at any time, although, in theory, they should help solve problems:
"A woman experiencing domestic violence remains alone in Belarus. She has no help from either the police or the education department. Even in the crisis rooms provided by the state, a victim of domestic violence will not find support – or rather, she will, but the question is whether this will not turn into even bigger problems. Victims of domestic violence in search of protection turn to shelters at monasteries, public organizations – and they are not even in every district centre. Therefore, most women prefer to endure the beating of their husband, father or brother until it ends in tragedy."
In October 2021, we held a voice chat with Evgenia Lutsenko, Director of the Center for Social and Gender Studies "New Life", a member of the European human rights organization "Anti-Discrimination Center "Memorial", a member of the Gender Expert Council at the Inter-Factional Association "Equal Opportunities" of the Verkhovna Rada of Ukraine, a member of the National Council of Women of Ukraine. One of the topics of the voice chat was the fight against domestic violence in Ukraine. Evgenia Lutsenko said that in 1997, a hotline on combating human trafficking and a hotline on preventing domestic violence and gender discrimination appeared in Ukraine. And in 2001, the law on the prevention of domestic violence was adopted. Ukraine was ahead of many Western countries in this regard. Ten years later, Ukraine signed the Istanbul Convention (Council of Europe Convention on Preventing and Combating Violence against Women and Domestic Violence). The Convention assumes that a criminal can be detained for domestic violence at the request of neighbours or work colleagues. And in 2019, amendments were made to the Criminal and Criminal Procedure Codes of Ukraine regarding the fight against domestic violence. Belarusians must hear about this experience because we have to build a country with democratic rules ahead of us, which means we will have to deal with the problem of domestic violence.
We continue to talk about domestic violence because this topic will always be relevant until despots begin to be punished by law. We hope that our materials will help Belarusian women in trouble to choose in favour of leaving the abuser and saving the lives of themselves and their children.