A large number of Belarusian political prisoners are sentenced to «chemistry». In Belarus, the restriction of freedom in an open-type correctional institution is called so. It is located far from a person's home: people from Grodno are sent to Vitebsk, Brest residents – to Mogilev region, Minsk residents — to Gomel. The orders here are less strict in comparison with the colony. But the main unifying link — slave labour — alas, remains.
What is Belarusian «chemistry»?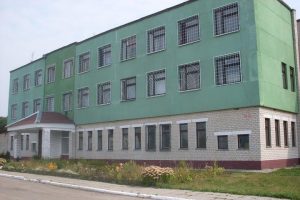 Sentenced to «chemistry», prisoners live in buildings that are somewhat similar to dormitories. Belarus has 29 such institutions. From the outside, they look like ordinary residential buildings. The only difference is in the bars on the windows. People are placed in sections or rooms and sleep on bunk beds. They are under the supervision and have to comply with internal regulations, pay for accommodation, buy and cook their food. Everyone, without exception, is obliged to work, and often, it is the lowest-skilled and low-paid work in rural areas.
Convicts can use the telephone and the Internet. Sometimes they even leave the institution to go home. But there are also penalties here — for violating the regime, you can get a reprimand, get into a punishment cell or even into a colony. In this regard, it is most difficult for political prisoners because most of them are immediately put on preventive registration. They are obliged to sign every hour at the commandant's office, loudly say their last name and the phrase «prone to extremism and destructive actions». It is impossible to go anywhere unaccompanied, even for medicines and milk, and prisoners leave after many requests.
The salaries of prisoners in the «chemistry» are very different. Some receive more than 2,000 rubles, usually those who have fallen into the capital's enterprises. Some barely scrape together 500 rubles. They need to buy products and clothes with this money. Relatives help many people. There are also different jobs: it is advantageous for the administration of an open-type institution that as many prisoners as possible work in one place because it is easier to control them this way. Therefore, prisoners are not allowed to look for work on their own. No one is interested in a person's speciality, so people with higher education clean manure on collective farms, wash cars, unload trucks, work in the fields. You can go to work without breakfast because a correctional officer сan refuse to give you a knife in the morning to cut sausage or cheese for a sandwich.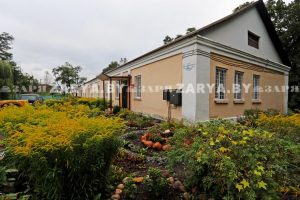 The work of prisoners has never been prestigious or highly paid. For example, in 2017, in the open-type correctional institution No. 1 in Brest for women, prisoners received an average of 380 rubles (with a minimum wage of 265 rubles). Up to 70 per cent of women's earnings went to cover the cost of maintaining children. The rest was spent on food. Different jobs were offered — someone was lucky to get a job as a nurse in a hospital.
In January 2021, convicts serving sentences in an open-type correctional institution in Mozyr filed a complaint with the Prosecutor General's Office about the abuse of official powers by the head of the institution Dmitry Divanovsky, as well as his deputies Dmitry Pivovarov and Dmitry Astapovich. The complaint stated that it was impossible to leave the commandant's office without an escort, even if prisoners needed emergency medical care. The number of daily checks increased to 6 per day, and it was forbidden to lie and sit on beds even for patients with a high fever. The temperature in the rooms was only +14 degrees, and the prisoners were not even given extra blankets. The administration of the facility read all the correspondence that came to the prisoners of the institution. The living conditions also left much to be desired: the kitchen and shower work only according to schedule, and many were left without a shower and food, and prisoners could not get into the gym, which was present in the building. Prisoners of «chemistry» were deprived of trips home. The security forces began to call the signatories and ask if they voluntarily put their signatures, and a violation of the regime was issued to one of the organizers of the signature collection.
How do political prisoners serve «chemistry»?
In the spring of 2021, one of the political prisoners served his sentence in such an institution. He had to work as a field breeder — to walk behind a tractor and collect stones. Such work was paid 60 kopecks per hour (0.2 euros). It is impossible to refuse work — it is a violation. Political prisoners are not given jobs where the salary is higher than the minimum — most likely, with the help of cheap labour, vacancies are closed for which no one wants to get a job. Many agricultural enterprises survive in this way — at the expense of the slave labour of political convicts.
According to the political prisoner, no one cares about the state of human health. Correctional officers are not allowed to communicate with doctors, promising problems if the prisoner asks for help. Therefore, everyone works: the elderly, people with disabilities and medical indications. If political prisoners have an industrial injury, the administration of «chemistry» makes every effort to make them say that they received it outside the enterprise — otherwise, they threaten with problems.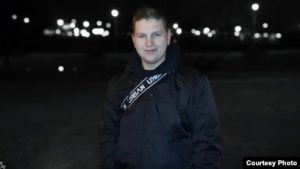 In the spring of 2021, Vladislav Ustin, a political prisoner convicted of violence against a police officer (Article 364 of the Criminal Code), got into the open-type correctional facility No. 7 in the Pruzhany district. Five months later, the guy managed to escape. Vladislav wanted to get into the local trading network «Euroopt». But the administration did not let him go there. Then he went to a farm, but the salary that was paid there was too small, and there was a lot of work to be done. «We sorted and planted potatoes, painted curbs, swept the territory, fed the deer, cleaned the sheds. Prisoners unloaded two or three trucks of 20 tons in a day — when I dragged these nets with potatoes, my back, of course, groaned. The private trader said that 400 rubles are a lot for us», Vladislav recalled. After that, he went to an agricultural enterprise, where convicts were paid less than ordinary workers. In June 2021, Vladislav received 220 rubles (75 euros). In August 2021, according to the schedule, the guy had to work 15 hours a day and left the commandant's office at 4.30 am.
In May 2021, another political prisoner, who served a sentence under Article 369 of the Criminal Code (insulting a representative of the authorities), said that almost 250 rubles were taken from his card upon arrival at «chemistry». This money was used to pay off obligations: the political prisoner had a debt on loans and instalments of about 2000 rubles. And he had to pay another 500 rubles to the victim as moral compensation. In a correctional institution, he got a job at a woodworking company. But he was fired at the end of the first month without even paying. As a result, he ended up on a farm where the salary was tiny. From this meagre income, the state will deduct about 40 per cent from him for debts repayment. And a man will pay another 70 rubles for accommodation in a correctional institution.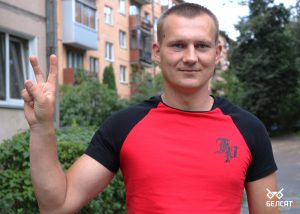 Political prisoner Dmitry Kulakov escaped from the «chemistry» in July 2021. He had to serve 3.5 years of restriction of freedom in Shklov for violence against a police officer (Article 364 of the Criminal Code) and insulting a representative of the authorities (Article 369 of the Criminal Code). Dmitry got to work at the sawmill, where he spent from 8 am to 7 pm. Sometimes there was no work there, and prisoners were forced to sweep the floors. The man earned about 200 rubles a month. In a correctional facility, Dmitry was ill with coronavirus, but he was not quarantinedю Instead, he was forced to take a pill. He was also dissuaded from the necessary operation — as a result, Dmitry began arthrosis. On one of the days of his captivity, the man swallowed part of a metal spoon. So he protested against the fact that he was not allowed on a planned date with his wife and child. After that, he was sent to a punishment cell for ten days.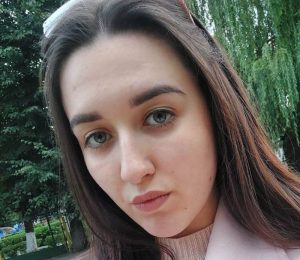 In September 2021, a student from Lida, Daria Chaiko, went to an open-type correctional institution. She was sentenced to 2.5 years of restriction of freedom for comments in chat rooms. Despite the lung disease, Daria was sent to «chemistry». The day after her arrival, she fell ill from the dampness and cold. There are two refrigerators, two stoves, one shower cabin and two toilets for 38 convicted women in the institution. In rooms, there were from 6 to 12 people. Hot water was in the morning for two hours, in the afternoon for three and in the evening for two. The stoves also work by the hour. Girls are sent to work as cleaners (they wash offices, cars in the depot, cells in the pre-trial detention centre) or to a sawmill. They receive 400-500 rubles. Of these, more than 50 rubles goes to pay for the hostel. Those who have debts or alimony – also pay for this. Daria, as a political prisoner, got registered as prone to extremism. She sleeps only on the upper bunks and goes to the commandant's office every hour after hours.
Another prisoner, whose certificate appeared in December 2021, was given a job at one of the Minsk factories. In the first month, he earned 1,000 rubles, and then every month, he began to receive less and less. As a result, in November, he got 640 rubles (219 euros). In December, he started working 12 hours a day to get more, but expectations were not met, and 620 rubles were given to him. The prisoner even worked on his sick leave — and was not sure that he would be paid a salary at all. When he tried to deal with the lawlessness, he was faced with rudeness and shouting.
How do they toughen the punishment of those sentenced to «chemistry»?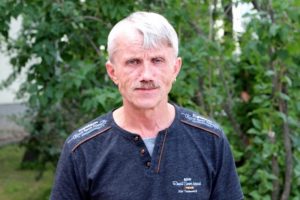 In June 2021, Mogilev activist Vladimir Tsurpanov was sent to the colony from «chemistry». A 62-year-old man was sentenced to three years of «chemistry» for insulting a judge. He went to serve his sentence in the city village of Krugloye. The activist said on his Facebook that he agreed to work only if his labour rights were respected when leaving the «chemistry». Namely, he demanded a salary corresponding to the minimum amount guaranteed by the state. The minimum wage in Belarus is about 400 rubles (136 euros). For this, a criminal case was opened against him under Article 415 of the Criminal Code (evasion of punishment). The aggravating circumstances were disciplinary penalties imposed on the political prisoner for lying and sitting on the bed at an unauthorized time, his sleeping place was not properly cleaned, and personal belongings were lying on the bed and the bedside table. Employees said that Vladimir Tsurpanov them to speak Belarusian with him. He drew up documents in the Belarusian language and offered to organize Belarusian language courses in the correctional institution. As a result, the activist was sentenced to three years of imprisonment in a penal colony.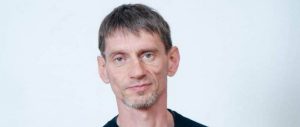 Another case of getting into the colony from «chemistry» occurred in February 2022. 47-year-old Roman Smolkin, sentenced to two years for insulting the head of the Soligorsk police, received a violation for being late for a lecture and falling asleep under the bunks. He was sentenced to 9 months of imprisonment. Roman got into jail for comment on social networks. He has been in an open-type institution in Vitebsk since October 2021.
And we note that only in the first month and a half of this year, two convicts sentenced to «chemistry» died in Belarus. Dmitry Dudoit, who was serving his sentence in Mogilev, committed suicide. Another prisoner died in the Pruzhany district — he suffered a stroke and complained of a heart condition, but they still got him a job. We are not sure that the death toll will not increase. In the harsh conditions of «chemistry», anything can happen.