It has been three weeks already since the start of Ukraine's battle against the troops of Vladimir Putin. Russia has lost over 13,000 soldiers during this time and many tonnes of military equipment. Over three million people have become refugees. Our Home joined the fight to help Ukrainians from day one. Over these three weeks, the Warsaw-based warehouse "Pobacz", organized in cooperation with the "DAR Initiative", has become a true hub for aid to refugees. We have provided aid to 6050 adults and children who left their country because of the war.
Humanitarian aid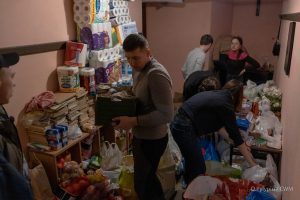 In the first days of the war, "Our House" collected over 100 food baskets for Ukrainian refugees, as well as medical supplies, IV's, colostomy bags, walkers and crutches, all of which we sent to the organization "Caritas". Activists from the DAR Initiative and the Center for International Cooperation in Poland helped us deliver this aid to the Ukrainian border. Representatives from "Our House" and the DAR Initiative personally delivered bags containing food, medicine and toiletries to places where Ukrainian refugees were residing, and got to know mothers and children who had come to Warsaw. A StandUp concert was held on March 3rd in Warsaw in which Belarussian comedians performed. The money raised from the event went towards "Our House"'s aid efforts.
We are trying to let as many Ukrainians as possible know that they can receive critical aid from us. For this reason, we asked famous artists and bloggers to talk about our aid efforts. As a result, the following individuals posted our information: bloggers Martin Kram, MC Rybik, businessman Alexander Knyrovich, and actresses Slava Krasovskaya, Anastasiya Tsymbalaru and Anna Serdyuk. Several filming crews visited St. Alexander Church in Warsaw, the home of the "Pobacz" warehouse: "Belsat", DW and TVP, as well as a correspondent from PSZ. "Our House"'s Warsaw branch linked up with an international human rights organization from Germany, receiving both humanitarian and financial aid from them.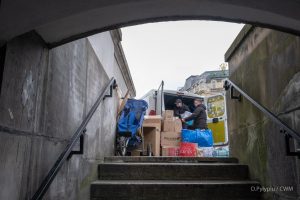 We gave humanitarian aid to various organizations in Lithuania: Caritas, ABF and the clinic "Všį Šeimos sveikatos priežiūros centras". A box with medical supplies for Ukrainians was also sent from Lithuania. Olga Karach asked the big supermarket chains in Lithuania to put out food collection carts in local supermarkets for Ukrainian and Belarussian refugees, and she also asked pharmacies to collect medical supplies for Ukrainian and Belarussian refugees in Lithuania. The same appeal was made to retail chains in Poland – we received the first installement of food for refugees on March 11th.
Furthermore, we are establishing contacts with various government authorities in Ukraine as well as charitable organizations that are working on the ground in the country. On March 4th, the Lviv Regional State Administration gave "Our House" permission to collect aid for the Ukrainian Armed Forces, territorial defense and refugees. We received the same permission on March 8th from the Rivne Regional State Administration. Starting March 9th, aid from "Our House" has gone towards "Planeta" – a charitable foundation for combatants, the disabled, families of deceased soldiers, first responders and police officers.
Beyond that, we've begun working with groups also involved in aid for Ukrainians abroad. These are "Ukrainian Home in Warsaw" and the Ukrainian diaspora in Vilnus. Our "Pobacz" warehouse was visited by feminists from the Party for Understanding Women. They spoke with our volunteers and decided to give financial support to Ukrainian refugees as well as to our activists.
Connecting with politicians
On February 24th, members of Belarussian organizations in Lithuania met in the Seimas with the the Human Rights Committee chair to resolve the issue of granting work permits to those applying either for refugee status or international protection. Without this resolution being passed, people awaiting their status would not have been able to work, and this would have extended for at least half a year. The chair of the Human Rights Committee promised to get involved, and just a week later the issue was resolved – refugees in Lithuania awaiting their official status are now allowed to work.
Human rights defenders from "Our House" also wrote letters to the Ukrainian and Polish Ministries of Foreign Affairs in which they requested humanitarian corridors for Belarusians who were in Ukraine and did not have passports. The Belarusians were either: 1) those who applied for a humanitarian visa from Poland and were awaiting approval and 2) those who applied for asylum in Ukraine. Their documents are sitting in government institutions. They are trying to leave the country, but Ukraine doesn't let people leave without documents. We are glad that various agencies helped us, and as of today a number of issues have been worked out; Belarussians have made it to Polish territory. "Our House" was listed as one of the top three most trustworthy organizations (alongside the public association Dapamoga and the organization Freedom House) that are engaged with Belarussians evacuating Ukraine without documents.
On February 28th, Olga Karach got in touch with the Saeima of Latvia to thank them for their timely response to the situation unfolding in Ukraine. Latvia, like many European countries, is willing to take in refugees and help them with necessities. Latvia also canceled their ban on combat in foreign countries – now, citizens of Latvia can go to Ukraine and fight with the Ukrainians.
Many Belarusians want to fight for Ukraine and fight against the occupying Russian troops but lack experience in combat. Olga Karach thus asked the chair of Latvia's Defence Internal Affairs and Corruption Prevention Committee, Juris Rancāns, to introduce an amendment to the Latvian constitution which would allow Belarussians who had received refugee status in Latvia and, thus, a residence permit, to conduct military service on a volunteer basis after registering for the national reserves. These Belarussians will also be able to help Latvia, a country regularly hit with the threat of war from Lukashenko.
On March 2nd, Olga Karach sent a letter to Josep Borrell in which she thanked the Council for sanctioning both Russia and Vladimir Putin. She also reminded them that it was the Lukashenko regime, rather than Belarus, which was participating in the war against Ukraine. Karach requested for the word "Belarus" not to be used when speaking of the Lukashenko regime, so as not to provoke hositility between representatives of other countries and Belarussians. Karach emphasized that the hearts of many Belarussians are with Ukraine, that they are all against Putin and view him as the enemy of the civilized world.
On March 4th, Olga Karach went on live TV with the President of Ukraine, Volodymyr Zelenskyy. This was broadcast at rallies in nine cities and on numerous YouTube channels, including Our Home TV. Karach said the following on air: "Putin waited for Lukashenko to fully "clear out" the protests, put everyone behind bars and overwhelm them. Only after that did he attack Ukraine, the thought being that Belarussians wouldn't be around to fight back. Not everyone knows this, but they are indeed fighting back. A married couple was detained for blocking train tracks so that Russian equipment couldn't get to Ukraine. There are many heroes like this; information about them just doesn't make it through to the public. I want to make it clear to everyone: the Lukashenko regime does not represent Belarus. Belarus stands with Ukraine".
On March 8th, representatives from "Our House" met with Birutė Sabatauskaitė, the Ombudsman for Equal Opportunities in the Lithuanian Seimas. We discussed the issues of violence against women, sexism, harassment and other forms of discrimination against women. The conversation resulted in a decision to stay in contact and discuss the needs of Belarussian women.
On that same day, Olga Karach sent a letter to Robert Tyszkiewicz, a parliamentarian in the Polish Sejm, thanking him for his active role in joining the statement made by the group "Už demokratinę Baltarusiją" against the Russian Federation's military presence on Belarussian territory. "We are are deeply concerned about the growing annexation and occupation of Belarus by the Kremlin, and we deem it crucial to make the following public statement: Alexander Lukashenko would not be able to remain in power without support from the Kremlin. The Kremlin is the primary architect of the regime in Belarus, and we wish that the international community would allocate more of its attention to the Kremlin's annexation of Belarus" – emphasized Olga Karach.
Antidiscrimination work
On March 7th, "Our House" and the DAR Initiative began collecting signatures in Warsaw for an appeal from the Belarussian diaspora in Poland to the President of the Republic of Poland Andrzej Duda, the government and Sejm of Poland, and the OSCE Office for Democratic Institutions and Human Rights. The appeal contained a request to expand the aid program for Ukrainian refugees to include Belarussian political refugees as well. Over 300 people signed the petition.
On March 14th, that petition appeared online. The petition talked about how due to Russian military aggression in Ukraine, and Belarus's involvement therein, many repressed Belarusians had become enemies of both Ukrainians and Europeans. Both Ukraine and Poland were refusing to let Belarusians use evacuation transport; Polish citizens weren't letting Belarusians stay the night with them because according to Polish law, they could receive financial compensation for providing aid specifically to Ukrainians. Moreover, Belarusians weren't able to leave Ukrainian territory and get access to aid from EU organizations. Belarussians were unable to receive food support as part of the Fund for European Aid to the Most Deprived.
On March 14th, "Our House", an international center for civil initiatives, and Olga Karach, appealed to Elżbieta Witek, Marshal in the Polish Sejm, regarding issues of discrimination towards Belarusian political refugees. We are certain that the issues Belarusians have begun facing are now receiving adequate attention. It is thus particularly crucial to reach out to those who make fair and right decisions that can have a positive impact on an existing issue.
We also began documenting cases of discrimination against Belarusians abroad to be monitored and subsequently sent to the United Nations' Special Rapporteur on contemporary forms of racism, as well as to the United Nations' Special Rapporteur on Belarus. The first batch of material is already on our site.
"NO means NO" campaign
The campaign against Belarussian soldiers being sent to war in Ukraine was started on March 1st, 2022. Its objective was to urge Belarusian men not to fight for Putin and Lukashenko. This campaign reached over 400 thousand users on "Our House"'s social media accounts. On March 3rd, word got out that a Belarusian military convoy which had been prepared for combat in the village of Mykhailo-Kotsiubynske, Chernihiv Oblast, had refused to go forward with an attack. Belarusian mothers began calling military units in Gomel region en masse, demanding proof that their children were there, not fighting in Ukraine. On March 4th, a Belarusian paratrooper surrendered in Ukraine, stating that he did not want to fight for Putin. On that day, media reported that Gulevich, the Chief of the General Staff of the Armed Forces of Belarus, had resigned due to the widespread refusal of Belarusian soldiers to go to Ukraine.
Belarussian men of military age began leaving en masse to Lithuania, refusing to fighting on Putin's side. As it turns out, people were being summoned to the army en masse. On March 9th, the Ministry of Defense said that someone was sending out "false summons". But government bodies in Belarus often use fake documents when they fear public scandals resulting from what is written in those documents.
Putin senses that he's losing the war in Ukraine, and he is thus becoming angrier and more aggressive. But we are not going to call it quits; we continue to provide aid to Ukraini an and Belarussian refugees. We hope that the day is near when all refugees return home and all dictators are defeated once and for all.